Now or Then – Bride Wars or My Best Friend's Wedding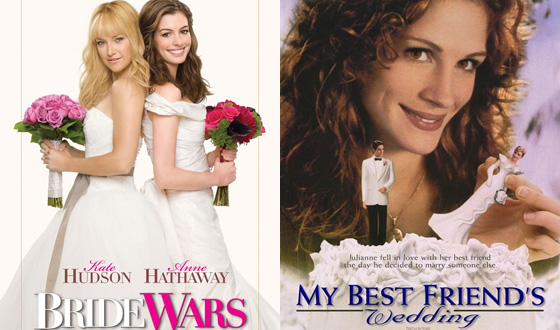 Bride Wars or My Best Friend's Wedding" width="560″/>


Now: Bride Wars (2009)
Then: My Best Friend's Wedding (1997)
In Bride Wars, longtime friends Emma (Anne Hathaway) and Liv (Kate Hudson) go all Bridezilla on one another when, due to a clerical error, their weddings are booked for the same day at the same venue. In My Best Friend's Wedding, Julianne (Julia Roberts) attempts to sabotage the wedding of her best friend, Michael (Dermot Mulroney), to his bubbly young fiancée, Kimmy (Cameron Diaz), after belatedly realizing she's in love with Michael. Which of these romantic comedies should you walk down the aisle with?
Hopes, Dreams, and Promises
Bride Wars: Ever since they were little girls, Liv and Emma dreamed of having June weddings at the Plaza. They may even be willing to marry the wrong guys to do so.
My Best Friend's Wedding: Julianne and Michael had a brief fling in college and made a pact to marry each other if neither were hitched by age 28. She realizes she's in love with him when he announces his impending nuptials.
Winner: My Best Friend's Wedding.
The Evils of Perfectionism
Bride Wars: Liv is a high-powered lawyer obsessed with her job and getting her own way — which means that sometimes she forgets to enjoy life.
My Best Friend's Wedding: Julianne is a hard-to-please food writer — in contrast to Kimmy, who is able to see through Michael's flaws and recognize the lovable guy he is.
Winner: My Best Friend's Wedding. Liv's perfectionism rears its head only when the plot calls for it, whereas Julianne's feels organic.
Sabotage!
Bride Wars: When neither of them budges on date or venue, Liv and Emma go to war with each other: Liv arranges for Emma to get spray-tanned bright orange. Emma returns the favor by getting Liv's hair dyed blue.
My Best Friend's Wedding: Julianne tries to undermine Michael and Kimmy's wedding by pointing out their respective flaws to one another (e.g., forcing the vocally challenged Kimmy to sing at a karaoke bar). But she truly crosses the line when she forges an e-mail from Michael's new father-in-law to his boss.
Winner: Bride Wars. The movie comes to life when the two heroines really start to go at it.
Sidekicks
Bride Wars: When Liv and Emma's friendship falls apart, they enlist the help of second stringers: Emma's fellow teacher Deb (Kristen Johnson), a self-obsessed layabout, becomes her new maid of honor. Liv turns to her understanding brother, Nate (Bryan Greenberg), who may have a crush on Emma himself.
My Best Friend's Wedding: Julianne hires gay friend George (Rupert Everett) to pose as her date. He proceeds to cause earnest havoc in an effort to get her to confess her love to Michael.
Winner: My Best Friend's Wedding. George steals the entire show.
Verdict
Bride Wars: Notwithstanding a zesty performance by Anne Hathaway, it's wildly uneven. We barely get to know our main characters. Plus, the dream of the Plaza doesn't really register — isn't New York City packed with blue-chip wedding venues?
My Best Friend's Wedding: Although it succeeded as a fun and frivolous romantic comedy back in 1997, it feels surprisingly somber now. Julianne's journey from embittered perfectionist to accepting friend is more nuanced than what we see nowadays in romantic comedies.
The Winner: My Best Friend's Wedding.
Read More