Forget Indians — Nature's the Foe in North to Alaska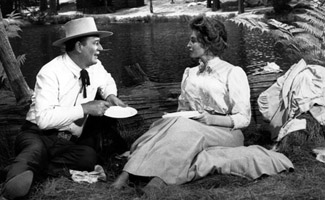 When turn-of-the-century cowboys reached the edge of the West Coast, gazing out onto the Pacific Ocean, they realized there was only one place to go: North. With California already tamed, men in search of adventure headed into the Alaskan frontier.
Far removed from the scorching heat of Death Valley and the mortifying whoops of Indians, the snow repository known as the 49th state may seem an odd choice for bandits and gunslingers. But, on further thought, how could it be more perfect? Its threadbare population and far-flung towns translated into a weak central government, giving rugged individualists the perfect opportunity to create their own law and order. The Klondike Gold Rush of 1897 attracted the hopeful, greedy, and dastardly alike in search of some precious yellow stuff.
Part of the allure of Alaska, especially after the California gold rush, consisted in the chance it seemed to offer to live as one's forefathers did. Jack London, a central architect of the Alaskan myth, put this way: "California's romance is passing away….I, at least, shall preserve as much of that romance as is possible."
London's stories set up north were adapted into a comedy starring John Wayne titled — aptly enough — North to Alaska. The movie proved the Duke could saunter and drawl through blizzards, as well as dust storms, and it presaged a new kind of Western, as evidenced in later Alaska-centric movies such as Limbo and Into the Wild, in which the protagonists are pitted against the forces of nature, rather than Native Americans.
Click here for a full schedule of North to Alaska on AMC.
Read More