New Year's Resolutions Inspired by The Dark Knight, Twilight and Iron Man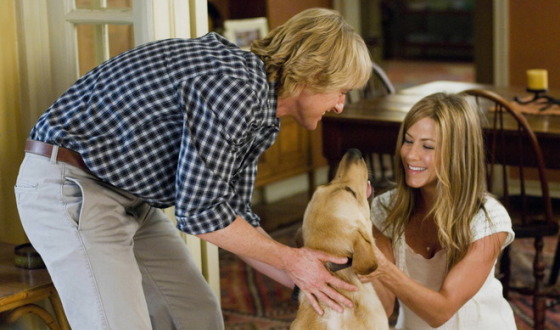 The Dark Knight, Twilight and Iron Man" width="560″/>

Despite 2008's many ups-and-downs, there was one bright spot this year — the movies. Hollywood churned out some quality box office hits and indie fare, all of which offer various lessons for the year to come. To get you pumped for '09 (say it slowly, "Everything's fine in '09!") here are some New Year's resolutions inspired by the past year's movies:
Get a dog: The old maxim of "never work with dogs or kids" proved only half true this past year with the success of Beverly Hills Chihuahua and Marley & Me. (Sorry Owen and Jennifer, we all know who the real draw of your movie was.) Turns out the one reliable thing in uncertain times is a trusty pooch — even at the box office, and Hollywood isn't stopping the dog stories anytime soon. (The wonderfully to-the-point Hotel for Dogs is out this month.) Anyone with some extra cash to throw around would be wise to immediately invest in a movie adaptation of that poker-playing dogs painting.
Stay in more (if you live in Gotham City): With the
global financial meltdown, rising gas prices, and general wacky weather
it's probably a good idea to just stay inside in '09. This holds
particularly true if you are a resident of Gotham City, where leaving
the house puts you at risk for a great number of misfortunes. Stopping
by the bank? Get ready to be held up at gunpoint by thugs in clown
masks. Driving to work? Batman's gonna blow up your car with a rocket
to make way for his fancy motorcycle-pod thing. And forget about taking
the ferry, unless you want to be part of Joker's twisted social
experiment and possibly perish in a fiery explosion alongside a bunch
of strangers.
Think twice before saying yes to that second date: Whether it was vampires (Twilight), armored-suit wearing billionaires (Iron Man, The Dark Knight), or backwards-aging boy-men (The Curious Case of Benjamin Button),
the female movie characters of '08 were falling for some truly
questionable fellows in their search for "Mr. Big." (The most
questionable, of course, actually being Mr. Big.) The movies offered
many romantic lessons, all of which could leave any hopeless romantic
crying into their pint of Rocky Road. Take a lesson from an upcoming
romantic comedy — if he doesn't call because he's too busy saving the
world/locating some lost crystal skulls, he's just not that into you.

Read more comic books (and vampire novels):
With three of the year's top five movies starring superheroes, the
genre is now one of Hollywood's safest bets. And Tinseltown is all
about playing it safe, especially during tough economic times, so get
ready for every other movie at the multiplex to feature tights-wearing
brooders. Wolverine and Watchmen are the two '09 movies to beat, but don't discount the neck-biters just yet. Twilight's
massive success will no doubt have Hollywood rushing to get anything
even remotely related to teenage vampires (or just out of college, not
sure what they're going to do with their life, maybe they'll try the
Peace Corps for a year vampires) into theaters. Therefore, it's
probably a good idea to bone up on the classics (X-men comics and Anne Rice novels) if you want to be ready for the movies of '09.
Keep believing in the underdog: From
adorable robots (WALL-E) to past-their-prime wrestlers (The Wrestler), the underdog prevailed
in '08. We could all stand to be a bit more optimistic
in the coming year, and have faith that one man (or robot or dog or
Hellboy) can make a difference.
Have your own movie-inspired resolutions? Tell us in the comments.
Like comic book movies? Check out Nick Nadel's weekly column on the genre in SciFi Scanner. This week's topic: Frank Miller (The Spirit)'s rise in Hollywood. Is it a good thing?
Read More