Mary Robinette Kowal's Tour Guide to Fantastical Planet Earth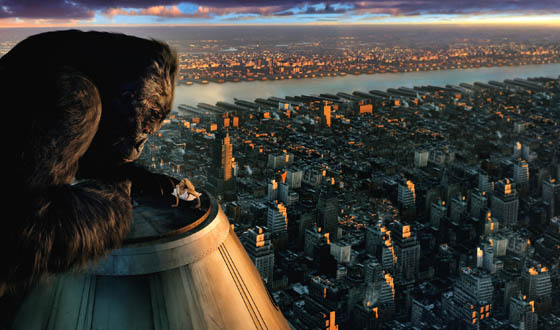 Location, location, location. That's the one piece of advice every real estate agent will give you when talking about where to live or start a business. It's also an important component in fantasy movies set in the real world. As we've discussed before, fantasy requires an escape from the laws of the natural world, so when a movie borrows from a real metropolis it has to in some way transform that city into something fantastic. Each location lends its distinct flavor to the fantasy, becoming a player as integral to the story as the actors. Let's leave the mundane world behind and tour of some of these fantastic, real cities.
City: New York City
As Seen In: King Kong (2005)
Ah, New York: The city that never sleeps. Known for its egg creams, bagels and broad mix of cultural traditions, Gotham City offers endless tourist destinations. But what could be more compelling than the Empire State Building when King Kong is perched atop it. Indeed, if not for the efforts of this all-too-misunderstood beast, Manhattan's towering skyscraper would likely blend into the skyline. But it's hard to miss a building when a great ape is taking swipes at bi-planes from its spire. Tour the observation deck and see if you can spot giant fingerprints still etched in the stone.
City: San Francisco
As Seen In: Big Trouble in Little China (1986)
Join Jack Burton (Kurt Russell) on an engaging tour of San Fransisco's Chinatown following tour guide Egg Shen (Victor Wong). As you travel — first in a sixteen wheeler and then on foot — the cramped streets become a real life labyrinth, trapping you and Jack in an epic battle against an ancient Chinese legend. Quiver at the site of three demigods — Rain, Lighting and Thunder — as they stage an aerial battle on the streets. Between stops, fortify yourself at Egg Shen's herbalist shop with a mystic brew to bring you strength and clarity. The tour continues through the facade of Lo Pan's (James Hong) import warehouse to a magnificent underground palace filled with dried fish, torture chambers and rich tapestries. Here lurks the ghost of Lo Pan, a thousand year old warrior doomed to an incorporeal existence unless he marries and sacrifices a green-eyed woman (Tip: If you happen to fit the description, you might be advised to skip this portion). After your trip, make sure to stop by the restaurant Dragon of the Black Pool for a hearty meal and commemorative jacket!
City: Los Angeles
As Seen In: Who Framed Roger Rabbit (1988)
Every city has its industry, and nothing says Los Angeles like Hollywood. Catch a ride with Eddie the cab and fasten your seatbelts for this hare-raising tour of the city. You'll stop at the Ink and Paint club, featuring an all toon review with such favorites as Donald Duck and, of course, the sensuous Jessica Rabbit. From there, head into the backlots of Warner Bros. where you just might catch a glimpse of Balloo, Dumbo, Baby Herman or Roger Rabbit himself. And of course, no trip would be complete without venturing down the tunnel into Toon Town. This vibrant neighborhood is rich with color and music, and the talking animals who inhabit the happy streets are sure to give you a lift — or at least a whack on the head with an Acme mallet.
City: London
As Seen In: Harry Potter (2001)
Most tourists stick to London's bigger attractions like Buckingham Palace, but for something a bit more magical, head off the beaten path to Charing Cross and duck into The Leaky Cauldron for a spot to drink. Follow one of the locals through the secret passageway in the back of the spooky pub and you'll end up in Diagon Alley. Characterized by its cozy, narrow streets, this is a part of old London that is not to be missed. Peruse books at Flourish and Blotts or step into the most venerable wand establishment in Europe: Ollivander's, where you might even see Harry Potter (Daniel Radcliffe) himself. Shopping completed, turn your steps to Kings Cross Station where you can catch a relaxing train out of town on track 9 3/4 to see the expansive views surrounding the city. Just be sure the Dementors aren't lurking about, as they have a tendency to take all joy out of a vacation.
When planing your next fantastic voyage, where do you think you'll go? Bonus points for recommending at least one local restaurant.
Mary Robinette Kowal is the winner of the 2008 John W. Campbell Award for Best New Writer. She is also the art director at Shimmer Magazine and a professional puppeteer. Her column appears every Friday.
Read More