John Scalzi – Some Candidates for the Next Children of Men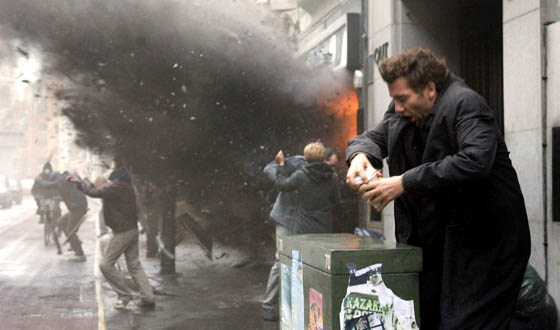 Children of Men " width="560″/>

For various reasons, I've recently been thinking about science fiction books making the jump to movies. In the past, some books have transitioned well — Planet of the Apes, Children of Men and Jurassic Park come to mind — and some have not (Hello, Dune!). But hope springs eternal, and I think certain scifi books could make really interesting movies — if they were done right. Which books? Well, I'm glad you asked. As it happens, I have with me a partial list, in no particular order:
Snow Crash (Neal Stephenson): Frankly, any of Stephenson's novels would make a terrific flick (with the exception of his aptly-named Baroque Cycle trilogy, which need to be multi-year television series). But if I had to pick one, I'd go with Snow Crash, because from the ridiculously funny pizza delivery at the start, the book never stops coming at you. And, let's face it, everyone loves the idea of a katana-wielding super geek squaring off against the dogmatic forces of evil. This story would need a director with an offbeat, jazzy sense of pacing — I nominate Guy Ritchie or Danny Boyle.
Could it happen? There's nothing in the works, but this is one of those books I expect will hit screens eventually.
Grass (Sherri Tepper): One of my all-time favorite scifi novels, this one's got everything: A fascinating new world with an equally fascinating (and story-relevant) ecology, a strong female lead, a mystery worth solving and best of all, large, malevolent dragon-like creatures who kill humans just for the hell of it. If I were a movie producer, this is the book I would grab, and then I would grab Peter Jackson or Alfonso Cuarón to direct. And then I would see it on a 53-foot IMAX screen.
Could it happen? Tepper seems to fly under the radar, so I don't hold out great hope for this making it to the big screen, but I'd be happy to be proven wrong.
The Forever War (Joe Haldeman):This story of a soldier's service stretching across both lightyears and then centuries was an instant scifi classic when it debuted at the tail end of the Vietnam era, winning both the Hugo and the Nebula awards and becoming a cornerstone example of how the genre looks at war (the other cornerstone being Starship Troopers). With a new corps of soldiers returning home from Iraq and Afghanistan, it's relevant once again, and could make a terrific, thoughtful picture.
Could it happen? It certainly could, because it's been optioned by Ridley Scott, who as it happens would have been my first choice to handle this particular classic.
Little Brother (Cory Doctorow): Author Cory Doctorow is a rabble-rouser on the topic of electronic and civil rights. The latter is in full evidence as he hits his authorial stride with this story about a young San Franciscan who starts a youth rebellion against the U.S. government when its response to terror becomes terrorizing its own citizens. The story is timely, and it would be a cool project for a fearless teenage cast and an equally fearless, possibly indie-minded director.
Could it happen? The book hit the New York Times bestseller list and is a prime candidate for Hugo and Nebula award nominations this year. With that sort of buzz, it's not hard to see someone in Hollywood taking interest.
Perdido Street Station (China Miéville): This book is more "weird fantasy" than straight-ahead scifi, but I don't care. Miéville has created a world that combines the best of steampunk aesthetics, "new wave" scifi literary sensibilities, gothic creepiness, proletariat revolution and plain ol' freaky invention, and makes it live and breathe and shamble toward you while you can't decide to scream or just admire the craft. I'd do both — and hope the adaptations also got the type of visually inventive director the source material deserves.
Could it happen? The story is not a traditional straightforward Hollywood narrative, and imposing one of those might break it. It's best chance of adaptation may be outside of Hollywood, perhaps in France, in which case I nominate Jean-Pierre Jeunet to direct.
Now, as I mentioned, this is an incomplete list. I'm interested in finding out which books you would like to get the cinematic treatment, and which filmmakers you think should put them up there (One request: For our purposes, you can skip my own work and focus on other writers).
So do tell. Who knows, maybe someone in Hollywood is listening.
Winner of the Hugo Award and the John W. Campbell Award for Best New Writer, John Scalzi is the author of The Rough Guide to Sci-Fi Movies and the novels Old Man's War and Zoe's Tale. He's also Creative Consultant for the upcoming Stargate: Universe television series. His column appears every Thursday.
Read More