In Juno and Minority Report, the Mall Says It All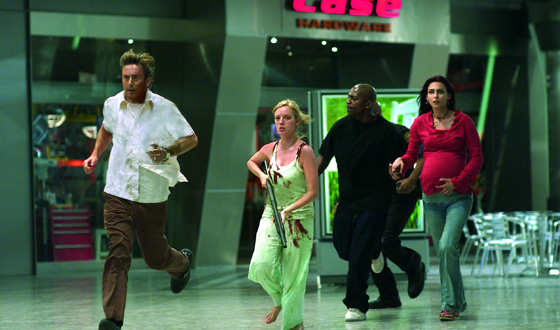 <img src="http://dev.blogs.amctv.com/wp-content/uploads/2009/01/dawn-of-dead-mall-5601.jpg" alt="" title="In Juno and Minority Report, the Mall Says It All" width="560″/>

In honor of this weekend's Paul Blart: Mall Cop, which celebrates the unsung bravery of the security personnel at our nation's meccas of consumption, we've compiled a list of ten stellar examples of mall culture in action. The goings on aren't limited to shopping, or teenage social interaction. In the movies, malls are populated with criminals, time travelers, and yes, zombies.
1. Mall Rats (1995)
In Kevin Smith's movie, the mall serves as a haven for TJ (Jeremy London) and Brodie (Jason Lee), both newly single and looking to let off a little steam, and perhaps, get revenge on the women who've wronged them. If you've ever been stymied by those mysterious "Magic Eye" posters, or have reason to want to see harm befall Shannon Doherty (as Brodie's ex, Rene), you'll find much to identify with here.
2. Bad Santa (2003)
Like Mall Rats' destruction-minded Jay and Silent Bob, Willie (Billy Bob Thornton) has mayhem and thievery on his mind in Bad Santa. During the run up to his carefully planned heist of the mall's holiday loot, Willie menaces the tykes who come to sit on his lap, then gets plastered and sucker punches a paper maché burro — in front of the kids. The holidays can be stressful, but Willie will put your seasonal misanthropy in perspective.
3. The Blues Brothers (1980)
For even more property damage, The Blues Brothers offers up a car chase that decimates a Toys R Us and sends shoppers fleeing. As Elwood (Dan Ackroyd) and Jake (John Belushi) outrun two state troopers, they admire the variety of stores: Disco Pants and Haircuts! Pier One! Meanwhile, mannequins end up on hoods, donuts are destroyed, and a staggering amount of glass is shattered.
4. Scenes From a Mall (1991)
The Beverly Center serves as a backdrop for marital discord in Paul Mazursky's Scenes from a Mall,
starring Woody Allen and Bette Midler as Nick and Deborah Fifer, a
couple in crisis. Carolers harmonize about figgy pudding. An infidelity
is confessed over frozen yogurt. And the loneliness of crowds becomes
palpable as a heartbroken Deborah melts down in the jammed parking
garage. Don't miss Bill Irwin as a very intrusive mime.

5. Juno (2007)
The mall isn't often a place for revelation — more often it encourages greed and agoraphobia. But in Juno,
the title character (Ellen Page) connects with Vanessa (Jennifer
Garner), the potential adoptive mother of Juno's unborn child, in the
glorious Mall of America. This quiet moment in Minnesota's 78 acre
behemoth, as Juno first sees Vanessa as a kindred spirit, is one of the
movie's most poignant.
6. Bill and Ted's Excellent Adventure (1989)
It's better remembered for the phone booth outside the Circle K, but Bill and Ted's Excellent Adventure
shows what can happen when history's luminaries confront modern
merchandise. Beethoven rocks out on an electronic keyboard, Socrates,
Billy the Kid and Sigmund Freud scope hot chicks in the food court, and
Genghis Khan tests out modern weaponry — an aluminum bat — at a
sporting goods store. Meanwhile, Joan of Arc leads an aerobics class,
until inevitably, everyone is rounded up by mall security.
7. Minority Report (2002)
To see the future of malls, rather than how they clash with the past, check out Minority Report.
Although the movie takes place in Washington, D.C., the Hawthorne Plaza
Mall, where John Anderton (Tom Cruise) strides through a pale, silvery
riot of image and sound, is in Los Angeles. The scene depicts future
advertising overload taken to its logical — and chilling — extreme.
8. Clueless (1995)
In Jane Austen's Emma, from which Clueless
takes its inspiration, the heroine does her scheming in grand country
estates. In modern-day LA, Cher (Alicia Silverstone) heads for the
Westside Pavilion. There she spots Tai (Brittany Murphy) cavorting with
the socially inferior skateboarer Travis (Breckin Meyer). Tai's "near
death experience," hanging over a balcony rail, is a turning point in
the movie; it causes Tai's popularity to soar and Cher's to wane.
9. Logan's Run (1976)
Although it isn't set in a mall, that's where Logan's Run
was shot, in the Dallas/Ft. Worth Metroplex, standing in for a "great
domed city." The preamble says it all: "Here, in an ecologically
balanced world, mankind lives only for pleasure, freed by the servo
mechanisms that provide everything." Except for that pesky part about
being incinerated once you turn 30, it seems like a very nice place. In
the future, planned obsolescence won't just apply to products.
10. Dawn of the Dead (1978)
Hands down the best cinematic use of a mall, both as location and metaphor, is George Romero's Dawn of the Dead.
Here, the consumption is literal — the undead eat the not dead.
Pennsylvania's Monroeville Mall serves as both hellhouse and haven for
four refugees from a zombie plague, who secure the shopping center and
hole up, collecting fancy wristwatches and giant wheels of cheese. If
the shots of staggering, expressionless zombies lurching down the
escalators don't convince you to switch to online shopping, nothing
will.
Read More