Greatest Supernatural Teen Tournament – David (No. 7) vs. Sarah Bailey (No. 10)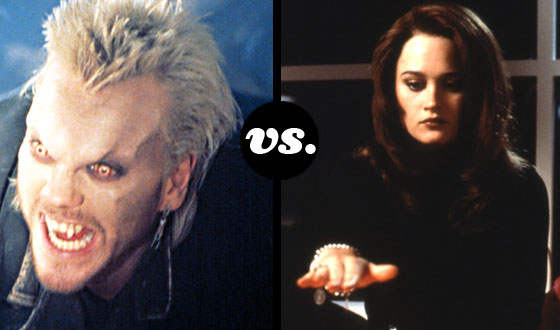 Trench coats, charming smiles and gobs of undead hair gel — that's the Lost Boys . Dear Reader, meet the leader of said Lost Boys, the vampire David (aka the young Kiefer Sutherland). Undead and incorrigible, he's a party-hearty rapscallion that dishes out more hallucinations than the rainbow bears at a Grateful Dead concert. A strong contender in this tournament? Hell yes. In fact, one of the strongest, and yet… the weakness for any handsome teenage boy is the soft, shy and sweet "new girl in town."
Unfortunately for David, the new girl in this town is Sarah Bailey from The Craft . It's witch vs. vampire in a first-round free-for-all. The Craft is a solid if slightly off-beat, coming-of-age horror flick: Like The Witches of Eastwick if directed by John Hughes. Sarah is the new member in a coven of teenage witches, yet she's dishing out more power than the rest of them combined.
Can Sarah's potions, powders, talismans and spells hold up against a throat-ripping, yellow-eyed snarl that was badass long before TELL ME WHERE THE BOMB IS ever graced the small screen? Let's find out.
Sarah, are you ready? David, are you ready? Let's get it on.

Read More