Greatest Supernatural Teen Tournament – Carrie White (No. 3) vs. Ginger Fitzgerald (No. 14)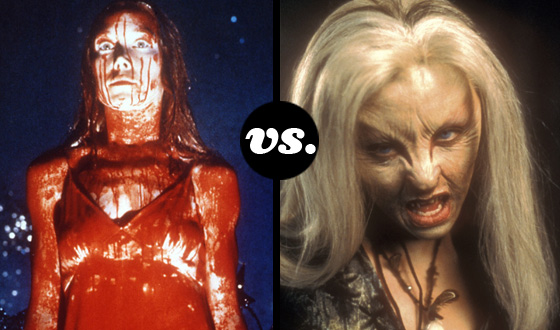 One of the most interesting matchups in this tournament, we have a pair of oft-maligned high school girls that make the transition from ugly duckling to social swan. Carrie White's puberty-induced telepathic powers make her hell on wheels, and when this girl decides to crash the prom, she really decides to crash the prom. The original (featuring Sissy Spacek in the title role) is a real horror classic — if you haven't seen it, get it. A masterful tale of rampaging teen hormones gone awry. She can kill you with her thoughts, so watch yours.
And speaking of rampaging teen hormones, don't count out Ginger Fitzgerald from Ginger Snaps . A death-minded goth teen, Ginger's sexuality blossoms in conjunction with her burgeoning werewolf powers. Perhaps the hottest werewolf portrayal since The Howling , Ginger has the standard lycanthropic abilities. However, she has a notable lack of killing experience, and her body count is far lower than Carrie's "good times at the prom" tally.
Carrie, are you ready? Ginger, are you ready? Let's get it on!

Read More