Greatest Supernatural Teen Tournament – Round One Ends, Quarterfinals Begin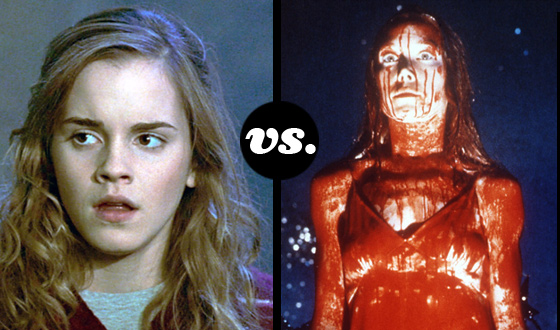 Huge voter turnout made a success of our Greatest Supernatural Teen Tournament's first round and the losing kiddies have been sent packing. That's right, go cry to yo' mammas, you teenage losers, because we're down to the Great Eight — and after this week, only four will remain.
While there was only one actual upset, by No. 12 seed Sean Crenshaw of Teen Wolf , the horror community sat poised on the precipice of near calamity thanks to a spirited battle from the 15th seed. That 15th seed, Lydia Deitz from Beetlejuice , nearly pulled off the upset of the century over No. 2 Edward Cullen from Twilight. Lydia pushed him right to the edge, with 627 votes against Cullen's 679.This does not bode well for the vampire heartthrob — if he can barely top a little goth cutie with no real powers, how will he fare in his Round 2 fight against the mean and nasty David from The Lost Boys?

Harry Potter (No. 1) vs. Damien Thorn (No. 8)
A pair of schoolboys with authority issues go head-to-head: Harry Potter's magic versus the satanic powers of Damien ( The Omen II ). Harry has the edge, as he's fought off far more supernatural baddies than the son of Satan, but Damien is the Son of Satan, as he proved in his Round 1 win over Melvin Ferd ( The Toxic Avenger ). Watch your ass, Harry, this is a far harder opponent than that pasty, River Tam ( Serenity ).
Hermoine Granger (No. 4) vs. Sean Crenshaw (No. 12)
Crenshaw's
first-round upset over Teen Wolf was surprising, but not shocking —
after all, he made his name by kicking wolfman in the nards. This time,
however, he's up against the real deal in Hermoine Granger (Harry Potter). She roughed up the title character from Donnie Darko in her first-round win, but will she squash Crenshaw to reach the semifinals?
Edward Cullen (No. 2) vs. David (No. 7)
I have to admit, I've been waiting for this. Do you like your vampires romantic, sentimental and moral, like Cullen in Twilight? Or do you like them mean, nasty and bloodthirsty like David of The Lost Boys? Seems to be Hot Topic Goths vs. Grunge Beach Butchers, and only one vamp will make it to the Final Four.
Carrie White (No. 3) vs. Regan MacNeil (No. 6)
The title character from Carrie absolutely demolished Ginger Fitzgerald ( Ginger Snaps ),
to the tune of a 10-to-1 vote ratio. This whippin' puts Carrie on a
rocket path to the finals considering Edward Cullen's anemic
first-round vote tally. But to get there, Carrie has to use her
telekinetic killin' skills on the head-spinning, soup-spitting bad-ass
known as Regan MacNeil (The Exorcist), who blasted Nightmare on Elm Street 's Nancy Thompson in Round 1.
Let's Get It On!
There's
eight dates to the prom, but only four tickets to be had. Who will take
up positions in the Final Four? Until Feb. 4, that, Dear Reader, is up to you. Vote!

Read More