Gollum aka Andy Serkis Discusses Shedding the CG Suit for Inkheart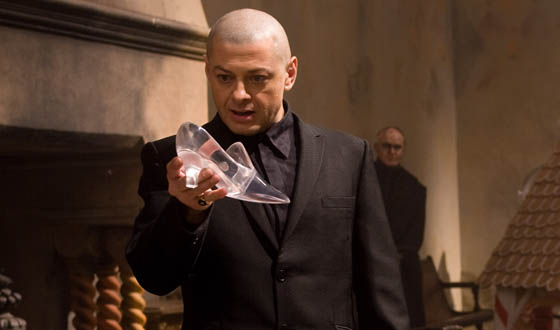 Inkheart" width="560″/>
The actor behind The Lord of the Rings' Gollum and King Kong's ape discusses shedding the CG suit to play the villainous Capricorn in Inkheart, a part he based on Hitler.
Q: What attracted you to Inkheart?
A: I thought it was really quite a dark story. I wasn't aware of the books beforehand, but I just liked the characters, especially the young girl, Meggie. I thought it was an empowering story for a young girl. I've got a daughter, and she'd started to read the book and she was really into it. It's a fantasy film, but the characters in it are in a parallel universe as opposed to being strict fantasy characters — they feel real.
Q: What was your daughter's reaction when she found out dad was playing the villain?
A: I think it ruined it for her [Laughs]. Since she knew Capricorn was dad, she wasn't free to have her own interpretation of the character. So I have to apologize about that one.
Q: There's a strong theatricality to your character, like he's performing for the other characters. Why is that?
A: Capricorn starts out as a nobody: He lives out in the woods, he stinks. So when he lands in this world, he very quickly engineers a way of gaining status and that makes him want more. [Inkheart author] Cornelia Funke is from Germany, and some of the dark undertones and references to the pageantry are about the rise of fascism. And so I based Capricorn on the rise of a paranoid dictator. I watched a lot of Leni Riefenstahl movies about the Nuremberg rallies, and the very medieval pageantry Adolf Hitler used in emblemizing of the Nazi party. There's an urbaneness to Capricorn, leaning towards a sense of theatricality — he thinks he's charming and well-spoken and can carry it off. But it's a veneer and underneath that is this paranoia of being found out and being sent back to nothing again.
Q: How did you enjoy getting to act in your own body as opposed to a motion-capture suit?
A: In all honesty, I never really draw a distinction between playing live action characters or CG. I'm about to do Tintin with Steven Spielberg, and the way I approach the role is no different to how I approach a live-action role. It's still done with the same amount of acting; it's just a different way of recording a performance, whether it's putting a costume on and makeup and shooting it on 35mm, or recording it with 100 motion-capture cameras and putting the makeup on after the fact.
Q: You're playing Captain Haddock in Tintin.

A: We start shooting Tintin the week after next. I've recently been down in Cornwall, getting to grips with nautical terminology. And I've just been re-reading all the comics and graphic novels. Over the last year, we've been doing tests and I've been finding a physicality of Haddock and the voice for him. But I don't want to give too much away at this point.
Q: After that, there's The Hobbit. Is it true that it's been delayed?

A: I don't think it has been delayed. It's just a big undertaking and it's being worked on. I don't know exactly when they're shooting. I've had brief discussions with [director] Guillermo [del Toro], but nothing is set in stone. I know that they're very interested in me returning to play Gollum. But other than that…
Q: I heard you shot Gollum's last scene in The Lord of the Rings in Peter Jackson's living room.

A: It wasn't the very last scene. Pete needed a particular reaction for a scene just after Shelob's tunnel — it's when Frodo first tells him that he's going to destroy the ring and he screams "No!" It was totally bizarre because Pete said, "Look we just have to do it now." It was a year after we had finished filming and we were in the edit suite in his house. I got down on the floor and tried to get back into it, and then he literally shot it on video, put it onto the computer, sent it over to New Zealand. That was extraordinary.
Q: Inkheart has characters called "Silvertongues," who bring fictional characters from books to life. What book would you bring to life?
A: The Kama Sutra.
Read More