Director Patrick Lussier (My Bloody Valentine 3D) on Censored Footage and Breaking the Rules of 3D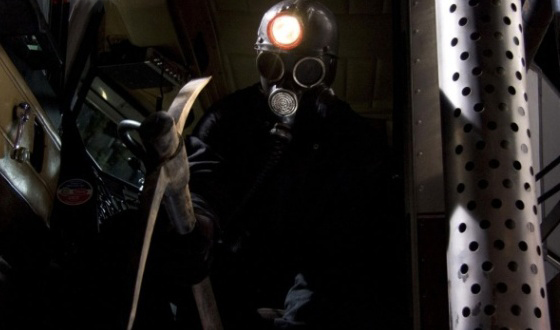 My Bloody Valentine 3D) on Censored Footage and Breaking the Rules of 3D" width="560″/>

Director Patrick Lussier talks about tackling a remake in 3D and how the MPAA and studio let him make the movie he wanted to make.
Q: Anyone who mentions the 1981 original movie talks about the nine minutes of footage censored by the MPAA. As the director of the remake, were you able to view these clips?
A: I did get to see them, but not until we were finished. They've done a great restoration on that, which will come out on DVD right around the time that we come out theatrically. There is some skillful restoration where you can see some brilliant old special makeup effects, and see how those worked and how aggressive the film was for its time.
Q: Do you feel that a new, uncensored version settles an old score for the original film and filmmakers?
A: I believe it does. I think one of the things we felt when the the studio came to me and said, "We want to remake My Bloody Valentine," was that it's called My BLOODY Valentine;
we were going to lean into the bloody as much as we could. We didn't
want to shy away from it, we wanted to make a hard-R movie that was
going to be a really fun date movie and at the same time. We set out
with that in mind, and we were very lucky to meet with the MPAA on a
good day and get the approval for our brand of mayhem.
Q: What contact did you have with the original filmmakers?
A: Other than through Mike Paseornek [president of production at
Lionsgate], I didn't have any contact with any of the original
filmmakers. I know some of them had read the script. Beyond that,
Mike relayed that they were very excited that we were doing this movie
and that the characters they had born so many years ago would be
resurrected.
Q: You were an editor before you were a director.

A: I started editing on MacGyver years ago, and the first
thing I directed was an insert of a dog disarming a bomb. I was very
fortunate to work for Wes Craven for a number of years and learned
about building suspense. We did Scream together for Dimension. As I was editing Scream 2 they came to me and said, "Are you interested in directing a direct-to-video sequel to The Prophecy?"
Q: This kind of 3D is still in infancy. How much were you able to experiment with?
A: There were no restrictions in terms of the way we could use
the 3D. Max Penner, our stereographer from Paradise Effects was
brilliant and pretty much any shot we came up with, he would figure out
how to make it work in 3D. He would say, "You know, classic
stereographers and 3D enthusiasts would say you're breaking all the
rules, but I think it would work if we do it like this and like
this…" With this film, you can sense that people are having that
theme-park sort of experience, which makes it a really fun date movie.
That kind of scary-fun, but not like a torture-porn movie. We wanted it
to be a fun throwback to those great '80s slasher films, with really
advanced technology, and that's what it is.
Q: Lionsgate has come under fire, but this movie seems to prove that the company is still horror-friendly.
A: Lionsgate was nothing but supportive on this film. Mike Paseornek led the charge on making it, and rallied everyone behind it
to make sure it had the support it needed. He was very passionate about
what we wanted to do, how aggressive we wanted to make it — that it
was going to be gory, that it would be fun. They recognized it for what
it was going to be and for the potential it had… There were never any
conversations about backing off on this or that — never. So whatever
may have happened to other films I can't speak to, but certainly for
us, they were nothing but supportive.
Read More