Daily Scan for 01.14.08 – Avatar Details Emerge, Final Five Cylons Get Comical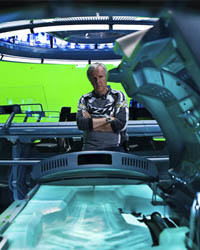 • The Los Angeles Times visits the set of Avatar, James Cameron's upcoming extraterrestrial adventure. This movie is steeped in secrecy, and since it's so CGI-intensive there's not a lot to tell from the photos. Still, there are a few juicy details here to appease the die-hards.
• Jerry Shuster, Superman's creator, had a bit of an S&M fixation. That's not really shocking, though, since leotards, leather and damsels in distress are staples of the fetish.
• The new Battlestar Galactica comic will heavily tease the role of the Final Five Cylons, says publisher Nick Barucci: "Part of the answer lies in the fact that these Final Five are old…They've been through a lot and they're basically responsible for the state of things on both sides"
• SciFi Wire interviews Andrew Stanton about his upcoming John Carter of Mars adaptation. He has confirmed that it will be live-action, which is a plus, but I'm still worried they're going to ruin this by ditching the Confederate soldier angle.
• A Stargate Asgard flagship built from tens of thousands of LEGOs makes me glad I'm not that big of a nerd.
• Torchwood star John Barrowman may carp about censorship and the BBC eschweing his beloved series, but that doesn't prevent him from writing his own Captain Jack comic. Sheesh.
• io9 lists the coolest robots of pre-golden age science fiction. Quick warning, folks: This one is pretty exhaustive.
Read More