Daily Scan for 01.08.09 – McG Dives With Captain Nemo, Shazam! Sinks Under Grit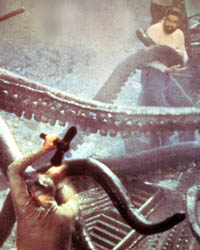 • SciFi Wire lists nine reasons George Lucas should retire — or be shot into outer space. The man hasn't directed a good movie in decades.
• Terminator Salvation director McG will be working on a Captain Nemo movie. Let's just hope this is a faithful take — Verne's Nemo is still one of the best characters in science fiction.
• The Dark Knight effect has hit Peter Segal's Shazam! superhero movie, which is now dead after Warner Bros. insisted on making the comedic character's story more grim and gritty.
• TR2N finally has a leading man. Garrett Hedlund, who had supporting roles in Troy and Eragon, beat out competition like Ryan Gosling and Trek's Chris Pine to follow Jeff Bridges' footsteps into Master Control Computer.
• A preview of the upcoming Battlestar Galactica prequel Caprica is online. I don't think BSG can go Dallas for too long without taking the fight to the stars.
• Joss Whedon's Dollhouse is getting favorable, though not slavish, reviews. It's still only a matter of time before Fox flushes yet another of his projects.
• Science fiction is chock full of some really great fake ads. And strangely, a great majority of them are in Chinese. The revolution is coming, gents.
Read More