Quigley Down Under: You're Not in Kansas Anymore, Pardner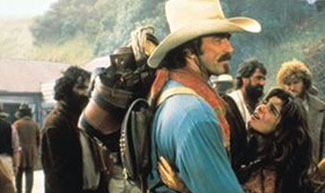 The Australian-cowboy movie (cf. Baz Luhrmann's latest) is often thought of as distinct from its North American counterpart. But the historical circumstances that birthed both genres were similar: both continents were flooded by European settlers, often leading to brutal subjugation of the native peoples; both experienced gold rushes (U.S.: 1848; Aus.: 1951) that drew the ambitious and the unscrupulous; both had their own brand of bandits (U.S.: outlaws; Aus.: bushrangers); and, perhaps most importantly, both have a surfeit of desolate landscapes on which to paint their frontier dramas. It shouldn't be surprising that the genres have sometimes fed off of each other through the years.
Witness Quigley Down Under, in which Tom Selleck plays a Yank who arrives to show the Aussies a thing or two about the North American-cowboy ethos — complete with a gigantic customized rifle (everything's bigger in America). The cross-pollination goes both ways; years later, Russell Crow would star in 3:10 to Yuma and Heath Ledger in Brokeback Mountain .
Click here for a full schedule of Quigley Down Under on AMC.
Read More