All Hail Tilda Swinton, The New Queen of Mean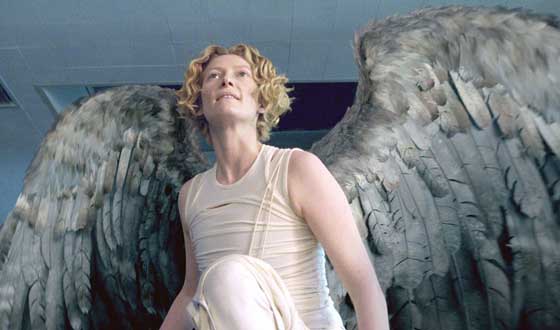 With Leona Helmsley permanently out of the picture, it's high time that a new Queen of Mean were crowned in her stead. (Even if she were alive, I'm sure we could find someone who's committed higher crimes than tax evasion.) If anyone has a nomination coming, it's the creepy, beautifully androgynous always-up-to-no-good arthouse star Tilda Swinton; based on her burgeoning Hollywood resume, the Oscar-winning actress spends more time coming up with creative ways to reveal her dark side than anyone on earth. The fact that she isn't actively oppressing or destroying others in real life (that we know of) isn't a liability. It's a reassurance, especially after seeing her play the condor-crunching, child-stabbing White Witch in The Chronicles of Narnia, a character whose appearance she also had a considerable role in designing.
It's not all just kids' movies for Swinton. In 2005 she got to run amok in an actual horror movie, the blasphemous blockbuster Constantine,
in which she became the eerily amoral archangel Gabriel. Amidst the
gruesome exorcisms and atom-bomb-blasted visions of Hell, you'd think
an angel would be a welcome sight, but it's hardly a spoiler to say
that Swinton's chilly creature isn't exactly wearing a halo. Even in
less gore-tinged fare like Michael Clayton
(the film that earned her an Oscar), the actress plays on our
worst fears of soulless corporate America, presenting a serene exterior
that (barely) conceals shredded nerves and murderous desperation. As a
ruthless extortionist in Julia, a paranoid cult leader in The Beach, and yet another beguiling corporate stooge in Vanilla Sky, she clearly is not to be trusted under any circumstances.
Reveling in unparalleled badness from the comfort of a theater or
one's own home pretty much sums up a horror fan's agenda, so it's no
wonder that Swinton has amassed a cult of admirers that most actresses pushing 50 would kill for. Perhaps there's a lesson to be learned from that, since she did kill for it — over and over again! Who can think of a better person to rule Hollywood as the new Queen of Mean?
For a full schedule of Constantine on AMC, click here.
Read More