A Director's Daughter Pitches Willy Wonka and the Chocolate Factory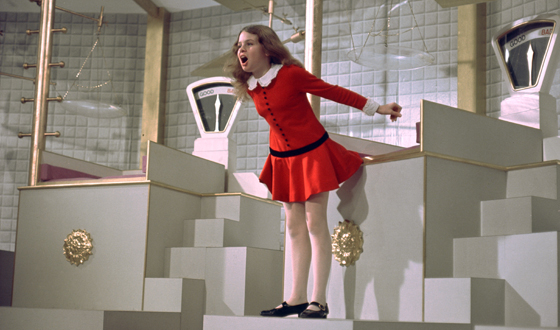 Fittingly, one of the most beloved children's movies was made because one little girl loved Roald Dahl's book. Director Mel Stuart admitted, "If you want to credit anyone for the creation of Willy Wonka and the Chocolate Factory , credit my daughter, Madeline. It was sometime in the fall of 1969 when my precocious 12-year-old daughter came up to me, clutching a copy of Roald Dahl's book Charlie and the Chocolate Factory. 'Daddy,' she said, 'I want you to make this into a movie and have Uncle Dave sell it.'" Despite her youth, Madeline Stuart didn't make the suggestion lightly. "I read the book five times before pitching my dad," she said. "Later they paid me $50 — and I didn't even need a lawyer."
At first, Mel Stuart wasn't entirely convinced. "You see, as a kid, she didn't realize that it wasn't that easy to make a book into a movie. I was working with a man named David Wolper and he was great at getting projects going… 'Uncle Dave' was a very close friend, and the chief executive of the Wolper Organization, a major force in television and motion picture production. Over the years, I directed many documentary films made by Wolper. Now, in 1970, I was looking for a new feature to direct and, by chance, my daughter had provided the opportunity… I read the book and I thought it was kind of interesting — it might make a good movie — so I gave it to him. He never read the book, I just told him the story."
Stuart relished the idea of doing something a little different. "I
thought that it would be rather challenging for me, because I was
brought up in my whole soul a nonfiction realist, and I'd done so many
documentaries. This was a fantasy. The whole thing about it, if you
watch it carefully, the reason why I still think it works the way it
does is that it's as realistic as it could be within the genre of
fantasy."
Full credit is due to producer David Wolper, however, for brokering
the unique financing deal that got the movie made. "If there ever was a
dream merchant, it was David L. Wolper," Stuart said. "Whenever I would
come up with a good idea for a film, Dave somehow found a way to get it
made. Once, for example, we made up a list of 30 subjects we wanted to
make into documentaries. He eventually obtained backing for twenty-nine
of them."
David Wolper believes that "a producer is a person who dreams — and
good producers make dreams come true." So he kept Stuart's idea in
mind, and a few months later, he happened to be meeting with Ken Mason
of Quaker Oats, which had sponsored some of Wolper's television
projects. While Wolper was pitching to him, Mason mentioned that Quaker
Oats was introducing a new candy bar, and Wolper immediately thought of
Charlie and the Chocolate Factory.
It was 1970, and most of Hollywood's major studios had run out of
money. MGM and Fox were selling off huge blocks of their famous
backlots to real estate developers, as well as auctioning off their
movie memorabilia. In this dry economic climate, feature films were
being financed by companies like Mattel Toys and General Electric
instead of the mammoth studios of days gone by. It was highly unusual
for a cereal company to finance a feature film, but Quaker Oats decided
to name their candy the "Wonka Bar," buying the rights to the name from
Dahl and putting up the movie's frugal $3 million budget.
Mel Stuart recalled, "This was perhaps the first time and maybe the
most revolutionary of the product tie-ins that would become standard
with studio movies. Typically, the studio allows a corporation a
product placement in the film in exchange for the creation of a huge
advertising campaign for the film when it is released, as in the case
of Reese's Pieces with Toy Story
movies. In a more inventive example, AOL made a deal for its
catchphrase 'You've got mail' to be the title of a film. In this case,
Quaker Oats was using the entire movie as an ad campaign for a new
candy bar."
Yet at the time, producer David Wolper described his motives for
making the movie differently. "I've always believed that the movie
theater is and should be a very special palace of dreams for young
people, so I decided that the time was propitious to make a film
especially aimed at them," he said.
The DVD_TV enhanced version of Willy Wonka and the Chocolate Factory airs Saturday, Dec. 6 at 8PM | 7C. Click here for the complete schedule .
To read more about Roald Dahl, the man behind the story, click here.
To read more about how Gene Wilder won his part as Willy Wonka, click here.
Sources:
Arthur Knight, "Can Creativity and Commercial Tie-Up Coexist?," Saturday Review, 1971
Willy Wonka & the Chocolate Factory, Production Notes, Wolper Pictures, 1971
Michael P. Lucas, "Sweet Legacy for a Dark Film, Los Angeles Times, 6/29/01
Daniel Robert Epstein, "Interview with Mel Stuart," ugo.com, 2002
Mel Stuart, Pure Imagination, Macmillan, 2002
David Wolper, Producer: A Memoir, Scribner, 2003
Read More