Which Type of Holiday Movie Do You Need? Pro-family or Anti-Santa?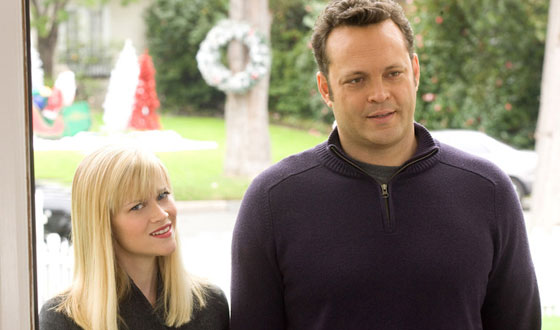 With the holiday movie season finally upon us, three flicks set during Christmas are vying for our dollars at the cineplex. All of them scratch very different itches — with various levels of success. Which one should you see? That really depends on what you're looking for….
For couples dreading a visit to the parents: Four Christmases
It might as well have been four different movies. A yuppity San Francisco couple (Vince Vaughn and Reese Witherspoon), neither of whom has met the other's parents, find themselves unable to fly out for the holidays and wind up having to spend Christmas with their parents — all divorced, hence the four separate visits loaded with Yuletide dysfunction. Along the way, the movie swings wildly from dark to farcical to psychosexual to just plain gross. There is the requisite jolt of earnestness at the end, but we're more interested in the terrific supporting cast (Robert Duvall! Mary Steenburgen! Sissy Spacek! Jon Voight! Jon Favreau!).
For big families that like to get together and argue: Nothing Like the Holidays
Give director Alfredo de Villa credit for capturing the amazing way that families often bring out the worst in each other. This comedy-drama about a large Puerto Rican family in Chicago reuniting at the home of patriarch Edy (Alfred Molina) and his wife Anna (Elizabeth Pena) initially feels like it's giving us a broad range of characters and storylines — the youngest son (Freddy Rodriguez) has just come back from Iraq, the daughter (Vanessa Ferlito) is pursuing an acting career, and the older brother (John Leguizamo) is having trouble with his career-driven businesswoman wife (Debra Messing). But the story is really the same as any number of family-reunion movies like Home for the Holidays and The Family Stone: Everybody bickers their way to some kind of reconciliation — predictable, to be sure, but the game cast makes up for at least some of the script's clichés.
For kids starting to think this whole Santa thing might be a hoax: The Polar Express
Much like the Chris Van Allsburg children's book on which it's based, Robert Zemeckis' 2004 computer-animated movie (rereleased and in theaters now) is quickly becoming a reliable holiday standby. And for good reason: This story of a young boy who, just at the point when he's starting to realize that Santa might not exist, boards a mysterious train to the North Pole, has just the right amount of eeriness to keep us coming back. When it was released, much was made of the movie's rollercoaster-ride-like action sequences (which is probably why it's being revived this year in IMAX). But forget all that. There's something far cooler going on here: The heralded "performance capture" animation technique creates characters who look human but move with ghostly, unreal smoothness. That might seem like a knock, but think back to The Wizard of Oz, The Nightmare Before Christmas, Willy Wonka, Dr. Seuss or the Brothers Grimm — children's tales are always best with a bit of the macabre tossed in. Even if it wasn't entirely intentional.
To get your holiday movie fill without leaving the house, check out Prancer, A Christmas Carol, and Christmas Eve on Tue., Dec. 23 at 8PM | 7C on AMC.
Read More