Where's our Halloween H3O?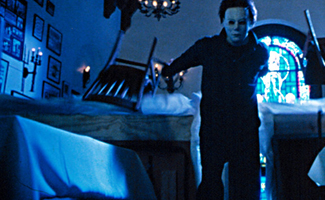 Halloween fans set great store in the passing of ten year anniversaries, and for good reason: The 1988 and 1998 editions of the franchise were the benchmarks that restored the series back on its feet. Halloween III: The Season of the Witch (1982) squandered the momentum the first two movies had built up, abandoning the Michael Myers aspect of the story for some wild tangent about accursed masks and Stonehenge boulders, effectively sending the series into deep freeze. But with the ten-year mark came 1988's Halloween 4 (Halloween H10 would have been a great name, but it was far more important to call it "The Return of Michael Myers" so people would actually give it half a chance). In a flash, everything was right back on track — Michael, the Strodes, and Donald Pleasence are reunited, and a fun twist ending connects everything back to John Carpenter's original movie.
Halloweens 5 (1989) and 6
(1995) fell prey to the same law of diminishing returns, however,
groping desperately at mystical ideas like telepathy and crazy cult
ceremonies to try and justify Meyer's increasingly bizarre longevity.
But by pretending these latter movies didn't exist at all, and turning
the spotlight back onto John Carpenter's original heroine, Laurie
Strode, the series' producers provided a grateful public a much-needed
detox with 1998's H2O. The movie raked in more money that the third, fourth, fifth, and sixth editions combined.
So as 2008 draws to a close, I think I speak for the masses when I say, "Where the heck is the H3O we so sorely deserve? It would be way cooler than H2O even from a chemical standpoint — H2O is just wimpy water, but H3O is awesome-sounding hydronium.
Just because the franchise devoured its own tail thanks to Rob Zombie's
remake of the original doesn't mean we don't need that extra 30th
anniversary action to keep the cycle spinning! There have been vague
reports about a new Halloween 2,
but Zombie doesn't want anything to do with it, so for now it's just a
blot on the horizon. How will fans receive this offering, flying as it
will in the face of time-honored tradition? Perhaps it's unfair to
speculate this far in advance, but I suspect the reaction will be along
the lines of "Missed it by that much."

For a full schedule of Halloween 4 (H10) on AMC, click here.
Read More