What to See – Cadillac Records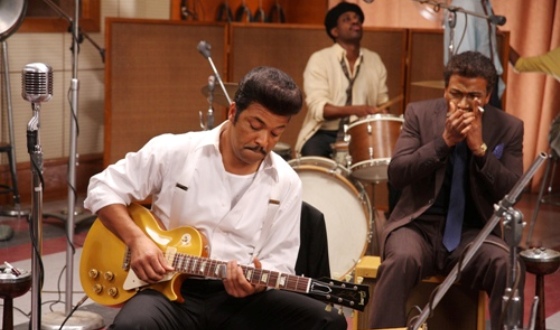 Cadillac Records" width="560″/>

Wedged between an army of high-minded Oscar contenders (Milk, Frost/Nixon) and a mob of big-budget Holiday Diversions (Four Christmases, Yes Man), this weekend's Cadillac Records is exactly the kind of movie that's going to get lost in the shuffle at the most wonderful time of the year. And that's a shame: Cadillac Records is a big, rousing, blunt story of the early days of rock and roll — when the Blues became business, when "race music" became the sound of America, when imperfect people made perfect pop music.
Written and directed by Darnell Martin ( I Like It Like That , Their Eyes Were Watching God ), it plays fast and loose with the facts — like portraying a romance between Chess Records label head Leonard Chess (Adrian Brody) and singer Etta James (Beyonce Knowles) and suggesting harmonica maestro Little Walter (Columbus Short) shot and killed an imitator in cold blood. Neither of these scenarios can be proven as true, but if you want facts, go to the library; if you want a great story, go to the movies.
Cadillac Records has a great story, but it's also got a great cast, some of whom are at the top of their game. Brody is fine as Chess — the innovator and exploiter, he's the path to stardom and the road to ruin for his artists; a man with a good heart and bad accounting practices. But the movie's real star is Jeffery Wright as Muddy Waters, a former fieldhand who made the Blues come alive for a post-war America hungry for a new sound.
Wright is magnificent as Waters (and, also, funny: Waters spots Chess holding Etta James tenderly and challenges his boss. I'm just supporting one of my acts, Chess explains. Muddy comes back, dead quiet; 'You never held me like that. …") But Cadillac Records is a whole made of parts: Knowles gets to do the rise-and-fall arc on a much gutsier, more grim scale than she did in Dreamgirls as James; Short is pure whip-crack crazy charm as Little Walter, stealing your heart early on and breaking it later; Mos Def plays Chuck Berry as a wisecracking troublemaker with gunfighter's cool. Cedric the Entertainer, playing Willie Dixon, not only narrates, but demonstrates the transformation of music into the music industry, as Dixon is hired to write new songs for Chess artists to "freshen up" their sound. And Eamonn Walker may have only a few scenes and a few lines as Howlin' Wolf, but his majestic, massive glaring charisma is riveting.
Cadillac Records doesn't just sell you the myth that the music business is all fun and art — it's blunt and bare-knuckled about money, lawsuits and bad behavior — but it does show you the inspiration behind the songs that made the money that bought the cars for the people who wrote the songs. Cadillac Records looks like it's all gleam and chrome, but it's got a brain, a heart and a superbly-engineered ensemble under the hood to carry it far. (For a look at other movies about the birth of rock and roll, click here.)
Also Worth Seeing in a Theater Near You

The Punisher: War Zone is another comic-book adaptation, but it ain't for kids; revolving around all-too-human vigilante Frank Castle (Ray Winstone), this latest big-screen take on the character features crazy, crazy violence courtesy director Lexi Alexander, who isn't afraid to bring the noise — or the gore — in the service of amped-up action.
Read More