Webstalker – It's a Stake Through the Heart for Twilight's Catherine Hardwicke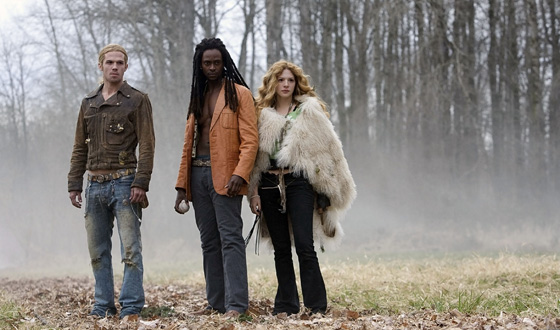 Twilight's Catherine Hardwicke" width="560″/>

Hey, Catherine Hardwicke! Guess what! Your new movie is still topping box office charts! You've already made more than a $120 million profit for your producers and DVD sales will rake in even more! You've made enough money that you could roll around naked in it if you wanted! And it's not just teen girls — even critics like Twilight. Not all of them, sure, but enough: Australia's Film Ink Magazine called it "smart and heartfelt." Creative Loafing said that you were a "blessing" to the movie and that you "understand teen protagonists well." The Boston Globe says that "the movie's a better movie than the book was a book." Catherine! You're on top of the world! Now, guess what? You're fired!
Hollywood is a strange, illogical place. In any other environment, an employee who turned in a 400 percent profit on a moderate investment wouldn't just be guaranteed job security, they'd be singled out for special treatment. But not here: Hardwicke has not only been canned from the sequels, but the producers actually had the nerve to drop the axe while she was still out on the promotional tour for Twilight.
Sure, sure, Summit Entertainment and Hardwicke issued a "joint" statement saying that the decision was mutual and that it all boiled down to a schedule conflict. But nobody — and I mean absolutely nobody — is buying that. Why not? Could be because just a month ago Hardwicke was telling MTV how much she was looking forward to doing the sequels and that she'd actually already shot some footage for one of them. Already shooting footage? Doesn't sound like a woman with other commitments to me. Need another reason to think this was an ouster rather than a friendly parting? Well, days before the "official" version was released, Deadline Hollywood broke news that the firing was coming, quoting an unnamed insider who says Summit found Hardwicke "difficult" and "irrational" during the making of Twilight. OK, so most filmmakers are, but still…
Now, here's where things get funky. Some believe Hardwicke's canning is ultimately a matter of gender, and that this would never have happened to a male director. " F*ck you, Summit", declares an article at Cinema Blend. You've
got one of the first female-driven franchises in history, with a female
writer, director, screenwriter, and star, and the way you're tinkering
with it belies an ugly, ugly assumption at the heart of your filmmaking
process — that women can be bossed around." Melissa Silverstein at Women and Hollywood feels pretty much the same way, saying that "they just should have called her a bitch and been done with it… Just goes to show that the gender issues are just much deeper than anyone is willing to discuss…"
Not everybody is buying the gender line, however. An anonymous poster on that Women and Hollywood article speaks for many by saying "The opening weekend success was on account of the
book's popularity, not Catherine's directing." The folks at MovieCrypt put it another way: "Was this really supposed to look like the pilot for an upcoming show on The CW network?" And lest you think it's just cranky critics griping at Hardwicke's work, check out these comments from the Twilighters Anonymous Fan Forum: "I think maybe someone else could have done it better." AmandaCullen84; "I think Catherine and Melissa [the screen writer] are at fault here.", Twilightlvr_88; "I think they should replace Catherine", AngelYve83. On and on it goes… the question posed was "Did you like Catherine Hardwicke's direction?" and through the first page of responses there is only one — ONE! — person who responds with a strong yes. Was someone at Summit reading?
We're probably never going to know the truth behind the firing, non-disclosure agreements will see to that. Was it a timing thing brought on by Summit's desire to rush-release the sequels? Was Hardwicke legitimately a hassle to work with? Was she considered not good enough? All are possibilities but as for "Who Next?" the answer to that is enough to rub salt into the wound. After canning Hardwicke, Summit didn't wait for her body to get cold before hiring on Chris Weitz to helm the sequel. Weitz, for his part, is both personal friends with the president of Summit and the director of a single fantasy picture, The Golden Compass … a movie that failed so badly that it led to Warner Bros. shutting down their New Line branch.
Successful director replaced with failed director? It doesn't make much sense to me, either, but some question whether who's at the reins will ultimately matter at all anyway. Cinematical is of the opinion that fans of the book will support the movies no matter what, but the fans themselves disagree. Says Wendy in response: "Summit got a 'bye' in the first round … [but] I'll be damned if Summit will get all of the money I paid for TWILIGHT if they do some quick, hacked together movie."
Read More