Web Stalker – The Hellraiser Remake Walks a Winding Road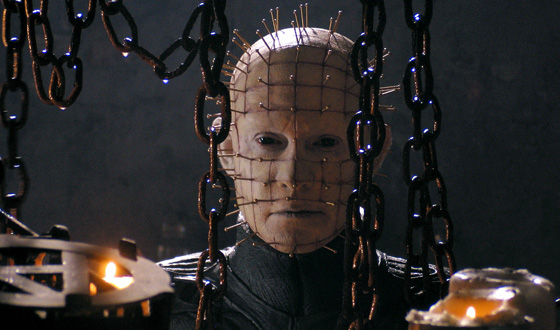 Clive Barker. He
writes — if you'll pardon the pun — one hell of a book, but has he ever been
done justice on the big screen?
It's a curious thing that a writer the caliber of Barker,
and one as film savvy, cannot boast a single bona fide big screen hit — despite his name
having the power to whip fans into a frenzy, and despite the host of titles bearing his involvement in some form or another. The law of averages
would dictate that a guy with this much stuff out there would have had
something stick by now, right? But no. Most would agree that the reason Barker has never really
worked on the big screen — the recent studio-orchestrated failure of Midnight
Meat Train aside — is because Barker has never truly appeared on the big
screen. Sure, there's been stuff with
his name on it and stuff that's based on his work, but has anybody ever really
captured what makes Barker work on the page?
The closest anyone has ever
come is Barker himself (of course) with the original Hellraiser , a movie that boasts one of
the most iconic film villains of all time: Pinhead. But close doesn't mean perfect and the
original Hellraiser — it's best not to even talk about the many DTV sequels —
was made under severe budget limitations that leaves it a seriously flawed
classic. The impending remake has been the subject of much scrutiny and
discussion for a good long time now. We're a few years into the development process now, but the
remake is no closer to actually existing than it was on day one. Here's
the timeline:
October 2006:
Barker himself brings word that the remake is coming and that he has
been asked by Dimension — and agreed pretty happily — to write the
script "on the basis that if I don't do it, it will be done in some way
that I probably won't like," he posts Fan reaction?
After initial head-scratching and observations that Barker should
proceed on to fresh material, fans concede that if it's happening, at
least it's with Barker involved.
November 2006:
Dimension Films issues the initial announcement that the remake is
coming. At the time no director is
attached, but Barker himself is confirmed as both script writer and
producer on the project. This announcement comes just a year after the
Weinstein Brothers split from Disney and while
people are still a bit nervous about their carnivorous reputation —
books have literally been written on this subject — the hope was that Barker's
direct involvement would give this at least a fighting chance to succeed.
Things are silent for a looong time… and then:
The
trades
break the news
that French directors Alexandre Bustillo and Julien Maury
— fresh of the success of the stunning and very, very disturbing Inside
— have
been brought on to write and direct the remake. What happened to the
Barker script? Good question, but it's one nobody is talking about in
public. He's still on as a producer, though. Says Clive: "My commitment
to being involved was really based on these guys who had a bloody good
idea that had nothing to do with what I had in my head. So more power
to them."
February 2008:
It is
announced that the remake release date has been pushed back from
September 2008
— yes, three months ago — to some unspecified date in 2009… because
Dimension has rejected the Maury / Bustillo script and instead
hired Marcus Dunstan and Patrick Melton (Saw V) to write it. Maury and Bustillo will still direct and
still nobody is asking what happened to the Barker script. Do you really want to know what people thought about Saw writers handling Hellraiser? "Not exactly the guys I would be checking
for to get a halfway decent script done," observes one poster.
April 2008: Maury and
Bustillo walk. I'm told this
is because Pinhead fails to appear until the final five minutes of the script
turned in by Dunstan and Melton. Which
kind of begs the question of why bother making the movie? Just as crucially, it again raises
the question: What happened to the Barker script? And here is where the fans pretty much turn on the project en masse,
realizing that it's pretty much getting the typical Weinstein
micromanagement treatment. Sarcastic suggestions that the movie be
handed over to Uwe Boll or Paul W.S. Anderson abound.
May 2008: Saw II –
Saw IV director Darren Lynn Bousmann offered the Hellraiser job. He turns it down.
October 2008: It is
announced that French director Pascal Laugier, fresh of the success of the
success of the stunning and very, very disturbing Martyrs, is in final
negotiations to both write and direct the Hellraiser remake. This is interesting not only because it means
that the Dunstan / Melton script has now also been tossed but because not even
two weeks earlier Laugier had employed some colorful language indeed while
describing to me — in person — his rejection of an earlier offer from Bob
Weinstein to take over this very project.
November 2008.
Laugier clarifies that his deal is a development deal only and that
nothing is finalized yet as far as script or a proposed start date. And
since he's actively working on a number of other projects as well — Details, based on China Mieville short story, is next up for him — it might still be a good, long while before we actually see a Hellraiser remake.
Final Tally:
• Directors attached: 3 (with at least one other turning down
the project)
• Script writers involved: 6
• Time since initial announcement with no actual progress
made: 25 months
Sorry, Clive, it ain't looking promising.
Read More