Timecrimes Director Nacho Vigalondo on the Time-Travel Paradox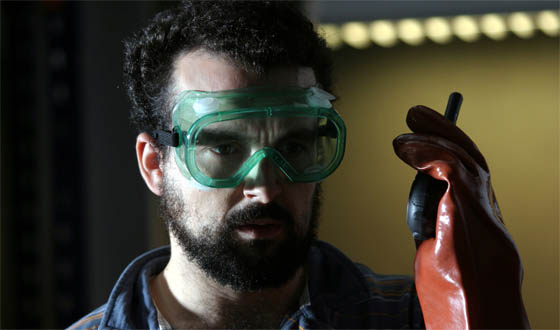 Timecrimes Director Nacho Vigalondo on the Time-Travel Paradox" width="560″/>
The Academy Award-nominated filmmaker Nacho Vigalondo has reemerged in the U.S. with Timecrimes, a scifi thriller that's built so much buzz, it's already secured remake rights.

Q: Why did you decide to make your first feature film about time travel?
A: I'm a time-travel geek. My favorite part of the Part II , when he goes back to the first film. I remember being in the theater saying, "What the hell is this?" It was the most incredible thing I'd ever seen in a movie. When you write a story about time travel, you are dealing with hyper-science fiction. But at the same time you're dealing with repetition, the unpredictable versus the predictable. It's very challenging to write because you have these big limitations in that your story is getting repeated again and again, but at the same time you can do whatever you want.
Q: The movie was meant to focus on one man as he travels through time. Why include multiple players?
A: I wanted to make a film in which the good guy, the bad guy, and the guy in the shadows are all the same. But a character dealing with himself would be a story about nothing. It would be just about the structure — just showing off my skills in order to make a movie that works in a mathematical way. The real movie came in about the fourth or fifth draft, when a naked girl enters the story. I found the emotional core. Now it's a story about villains, about voyeurism, about obsession, about guilt, about redemption. When I could imagine a girl that turns into an erotic fantasy, and then we discover that erotic fantasy is made by the same guy who is enjoying the fantasy, for me it's like, We've got a movie! Time travel became just a tool.
Q: Stories dealing with time travel take either a fatalistic stance, where one's destiny is unchangeable, or a butterfly-effect stance, where you can change anything and everything. This movie seems to straddle both.

A: That's the funny thing. I was definitely seduced by the idea of building a universe in which you cannot change anything. When you cannot change anything, you have these limitations that make the movie really exciting. When you can change things, it's too open a universe. But when we set the rules that the events are inevitably going to unfold in a certain way, I wanted to ask, How can we cheat the system? The answer is that the main character cheats on himself in the past, cheats on his own past point of view.
Q: Are you surprised this movie is getting such a positive reaction in the U.S.?
A: Absolutely. When I was shooting, I told my director of photography, "I have the feeling that if this movie works well, it's going to work better than any of us imagined. And if this movie works bad, it's going to work much worse than any of us could imagine." We spent a whole find year finding a U.S. distributor, which we found before we even found a Spanish distributor. We found the remake rights before we found the Spanish distribution rights.
Q: How involved have you been with the remake?
A: The people involved in the remake are very good names. Timothy Sexton, the writer from Children of Men, is writing the screenplay, and I have no doubt that the director is going to be awesome. But I've been dreaming half of my life of making feature films. I can't imagine myself making the same one twice. I'm honored and lucky they want to remake it, but I have to move on.
Q: One of your upcoming projects is called Ramp, about a car that drives off a ramp and lands on a UFO. How did you come up with this idea?
A: I love cars, I love UFOs, and I love ramps. And the idea of a car jumping thanks to a ramp is something that really appeals to me. And the idea of a UFO — I'm not into UFOs in real life, and I don't know whether or not they are real, but I love UFOs as a pop-culture icon. So this is putting these three things together for me. I think it feels like a real classic American film.
Read More