The Wild Bunch: Classic Western or Vietnam War Movie?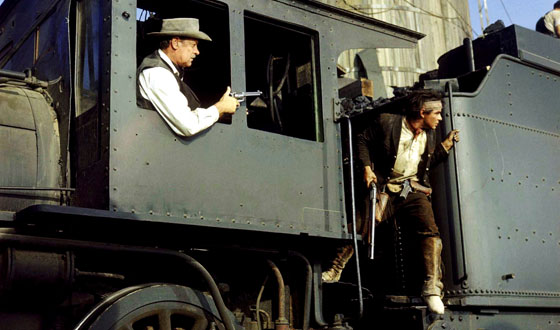 A machine-gun massacre provides the fitting climax to Sam Peckinpah's The Wild Bunch — a grim classic that shattered the silver screen's romanticized vision of the American West. Its fatalism and graphic violence were, even in 1969, a shocking break from the bloodless duels and selfless heroics of, say, High Noon .
Set in 1913, The Wild Bunch is armed with advanced firepower and, consequently, body counts usually not seen in Westerns. The mechanized brutality of World War I was, of course, only a year away for the film's gang of antiheroes; the movie's opening bank robbery — a bloodbath courtesy of semiautomatic pistols, not available to the Peacemaker-toting gunslingers of yore — set the stage for the coming carnage.
But while gruesome forebodings of trench warfare and industrialism
spatter the picture — there's even a Model T used as a torture
machine — it's really the cloud of a later conflict, the Vietnam War, that casts its gloom on the movie's psychological palette. Filmed in '68 (the year when a record-high 16,589 American soldiers died), The Wild Bunch
was informed by the real-life military violence, news of which was being reported on American TV screens daily. Vietnam informed Peckinpah's assault on viewers and should be remembered by
contemporary audiences confronting the movie's phantasmagoria of senseless
brutality.
For a full schedule of The Wild Bunch on AMC, please click here.
Read More