The Top Ten Horror Movies of 2008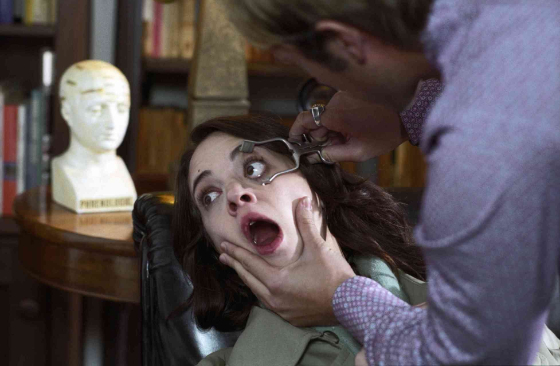 It's always hard to choose the best American horror movies in any given year because the words "American" and "year" are pretty flexible. In this case, we're focusing on English-language movies that got some kind of U.S. release in 2008. This year's picks were all highly ambitious, even if not entirely successful at the box office.
10. The Ruins – With the reputation of a kid from the wrong side of the tracks, this movie came out swinging and was quickly kicked to the curb by fans. But how can you hate on a flick about fast-moving, skin-stripping, cell-phone-imitating flowers that wipe out a clutch of clueless Americans?
9. The Burrowers – J.T. Petty's Wild West, pro-genocide monsters movie was not entirely successful, but it was more ambitious than this year's graduating class at Harvard Law. Riffing on The Searchers , it starts with the abduction of a pretty young girl and ends with organ eating, live burials, and a plea for Americans to exterminate all indigenous species.
8. Dance of the Dead – The best zombie flick to come along in ages. It starts out as a boneheaded teen comedy, but when the sun goes down and the disco balls of prom night light up, it morphs into a smarty-pants version of Night of the Living Dead . A passionate plea for cross-clique bonding, Dance of the Dead went straight to DVD, but it deserves more love.
7. The Signal – Another zombie-ish flick, but this time an omnibus. It's a good calling-card movie and a fun romp, and it delivers way more and way harder than a lot of what Hollywood had to offer this year.
6. Deadgirl – Makes up for in ambition what it lacks in technique. Two high-school kids discover a chained-up zombie chick in an abandoned hospital, and they turn her into their personal sex slave. Then they start pimping her out. Then she starts to rot. Then it gets really yucky.
5. I Think We're Alone Now – This documentary, about two obsessed fans of onetime teen idol Tiffany, is more disturbing than Blindness, The Happening, and doomsday put together. Never before have you gotten this close to stalkers — and you'll never want to get this close again.
4. Jack Brooks: Monster Slayer – A movie that was unfairly dismissed. It's an all-latex, no-CGI fest that feels like a low-budget horror from the mid-80s: a plumber discovers that the cure for his anger-management issues is to whale on squishy, goo-filled monsters with a wrench.
3. The Strangers and Quarantine – The Strangers is a remake of France's Ils , and it's excellent (though pointless). Quarantine is a shot-by-shot remake of Spain's [Rec], and it throws in a few extra bonus scenes that take it to another level.
2. Mother of Tears – Dario Argento's Italian-American witch film is one of the worst movies of the year — and I mean that in a good way. Full of rubber babies, ridiculous plot points, unmotivated nudity, and ample gore, it's about as nutritious as crack. It'll be a disappointment for anyone who expected quality from Argento. But if you don't mind the smell of talent burning, then this crud's for you.
1. Splinter – Surprise! It's a low-budget horror movie that you don't have to make excuses for. A monster movie made on a shoestring, with a tight script (the characters have high IQs), 3D characters, and ace special effects. It also added a monster to the horror genre's gallery of terror: The porcupine.
Anything missing from the list? Tell us below in the comments.
Grady Hendrix is one of the founders and programmers of the New York Asian Film Festival. He writes about Asian film for Variety at Kaiju Shakedown and should have found something better to do with his life by now.
Read More