The Day the Earth Stood Still Has Its Stars Talking About Aliens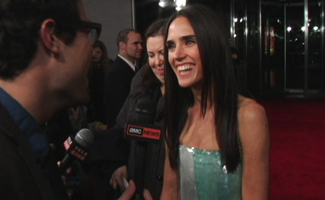 On the red carpet for The Day the Earth Stood Still, Jennifer Connelly says this version, like the original, is self-reflective and "gives a truthful view of how we treat each other and the planet." Meanwhile, co-star Keanu Reeves, the movie's Klaatu, admits to believing that we share the universe with other life forms.

Want more? Click here for additional AMC News videos.
Is it all scifi all the time at the premiere of The Day the Earth Stood Still at New York's Lincoln Square? No, there's a bit of parental pride, too. Will Smith and wife Jada Pinkett-Smith bounded down the red carpet, taking photos of their son Jaden who has a leading role.
Read More