Still the One – Buffy Summers Wins Master Monster Hunter Tournament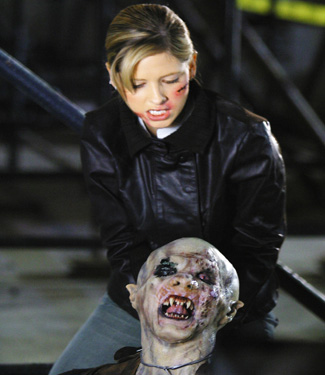 Sixteen of the best monster hunters from cinema and television entered this grand tournament. And now, four weeks later, fifteen of them are gone and only one, the champion, remains.
I give you your Master Monster Hunter — Buffy Summers.
She dominated the tournament, cruising to easy victories over River Tam from Firefly in Round One and Angel in Round Two before pulling out an incredibly narrow win over Ripley in the semifinals. How close? It was came down to just one vote. (So you Aliens fanboys in the beards and ponytails that didn't think you needed to vote for Ellen Ripley? Your girl lost and it's your fault.)
In the finals, she faced-off against Ash of The Evil Dead
franchise. And what a battle it was. When it was all said and done,
AMCtv.com site logged more than 70,000 votes for the championship fight
— and this time, Buffy had to come from behind to win it all.
She fell behind early, as Ash's wide array of monster slayings drew
voters. But this is an online poll, people, and Whedonites live online.
In fact, I'm not sure they have homes, because they own the coffee
shops and the schools and the free wifi at public libraries. This is
their world, man, and Buffy is their icon.
Just as Buffy slew every monster in Sunnydale, she bested every
monster hunter she faced in this tournament. Thanks to this tournament
and your votes, there is no longer question and the debate is over —
Buffy Summers is the greatest monster hunter of all time.
Here's to you, Buffy.
Read More