Stacie Ponder – Motel Hell Isn't Just a Movie, It's a Subgenre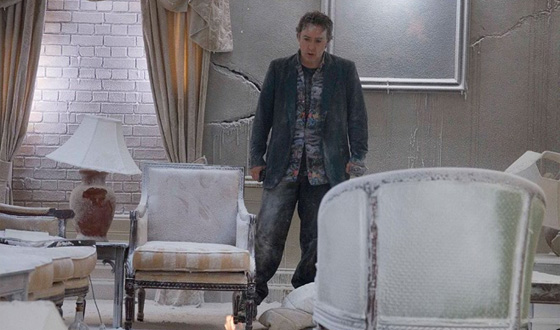 Motel Hell Isn't Just a Movie, It's a Subgenre" width="560″/>

I hate to say it, kids, but the 2008 holiday season is all but over. It's time to make those resolutions that you're so totally going to keep this year — to end the all-cookies, all-the-time "but it's the holidays" diet, and to box up the trusty red plastic Christmas tree. Sure, it's a bit depressing when the perfect day to watch Silent Night, Deadly Night 5 comes and goes, but then it's a bit of a relief when holiday travels are over and you're back home again to hunker down for the long, boring winter (of course, I could easily argue that every day is the perfect day to watch Silent Night, Deadly Night 5 — but that's a column for another day). Travel during the winter months can be a real drag thanks to a little phenomenon known as "crappy weather." Snow piles up and ice magically appears, often bringing planes, trains, and automobiles to a standstill. Still, it's better to catch some zzz's overnight in an airport than to wait out the storm at one of these horrifying hotels…
THE BATES MOTEL ( Psycho , 1960)
Proprietor: Norman Bates (Anthony Perkins) and his rather reclusive mother, Norma
Amenities: Complimentary body perforation with every shower; free parking in the hotel's underwater parking lot
The lo-down: Mild-mannered and be-sweatered Norman Bates runs his eponymous hotel as his crotchety old mother gazes down disapprovingly from the big creepy house on the hill. Being cooped up together for so long in the middle of nowhere sure has driven the pair slightly batty; while dear-n-dead ol' mom barks orders and rots in the fruit cellar, Norman practices taxidermy and dresses in drag. Just business as usual in the middle of nowhere, I guess.
Will you check out in the morning? Your chances rise exponentially if you opt for a bathroom sink sponge bath.
STARLIGHT HOTEL (Eaten Alive, 1977)
Proprietor: Judd (Neville Brand)
Amenities: A free, albeit bitey, petting zoo featuring a large crocodile
The lo-down: Director Tobe Hooper's follow up to the masterful Texas Chainsaw Massacre is anything but. This tale of a murderous, one-legged, woman-hatin', crocodile-keepin', scythe-wieldin' innkeeper named Judd lands squarely in the dreaded no man's land of "eh." It's too boring to be good, but it's not sleazy enough to be so bad it's good.
Will you check out in the morning? Probably not. You'd be surprised how deft a murderous, one-legged woman-hatin', crocodile-keepin', scythe-wieldin' innkeeper can be.
MOTEL HELLO (Motel Hell, 1980)
Proprietor: Farmer Vincent (Rory Calhoun) and his sister Ida (Nancy Parsons)
Amenities: Motel grounds feature beautiful relaxation gardens; novelty meats available for purchase at the smokehouse
The lo-down:
Vincent and Ida look amiable enough, what with their overalls and Ida's
inappropriate pigtails. Don't let their smiles and country-talk fool
you — these sibs are pure evil! They'll hypnotize you and turn you
into one of Farmer Vincent's fritters as if you were any other kind of
critter.
Will you check out in the morning? You might, but you'll be far more sausage-shaped than you were at check-in.
THE OVERLOOK HOTEL ( The Shining , 1980)
Proprietor: Jack Torrance (Jack Nicholson)
Amenities:
Complimentary backrubs by rotting woman in room 237; all the chocolate
ice cream you can eat; endless fun in the hotel's hedge maze
The lo-down:
Being snowed in for months at a giant luxury hotel with your family
sounds fantastic, doesn't it? A little cabin fever never hurt anyone!
Wait, yes it did: In particular, the families of all of the caretakers
in the Overlook's long history. The real problem is that while the
hotel is definitely haunted, it's haunted in a decidedly sneaky way:
There are no cobwebs, no dark corners, nor ominous eye-shaped windows.
It all looks fine on the surface, but then the true nasty colors of the
Overlook come…ahem… shining through — blood gushes from an
elevator, creepy weirdo twins show up everywhere to harass you into
playing with them, and oh yeah — you're suddenly filled with a burning
desire to chop up your wife and kids. Not a great deal. On the other
hand, the bar does offer free drinks…
Will you check out in the morning? Your chances are pretty good if you keep your wits about you and if you can swing a baseball bat.
MOUNTAINTOP MOTEL (Mountaintop Motel Massacre, 1986)
Proprietor: Evelyn (Anna Chappell)
Amenities: Each room features a trap door; complimentary scythe service
The lo-down:
This '80's slasher boasts a fantastic tagline –"Please do not disturb
Evelyn. She already is." — but, unfortunately, not much else. Deranged
geriatric innkeeper Evelyn travels from room to room via a tunnel
system, loosing all manner of creepy crawlies into guests' rooms before
killing them off sickle-style. Hmm. A wackadoo scythe-wielding hotel
manager? Sounds like Evelyn and Judd are a match made in hell!
Will you check out in the morning?
Be sure to look at the room before committing to checking in. If the
motel's host seems a little off and your room has a prominent trapdoor,
just leave.
PINEWOOD MOTEL ( Vacancy , 2007)
Proprietor: Mason (Frank Whaley)
Amenities: Honeymoon suite features complimentary cockroaches and large snuff film library
The lo-down: Vacancy has a fantastic premise (those free snuff movies are filmed right on location and the next installment will feature you!),
but it suffers from a common problem in Hollywood horror: Big name
stars means no big name death. Luke Wilson and Kate Beckinsale
certainly won't be offed early in the proceedings (if at all), which
means a lot of padding in the movie's run time.
Will check out in the morning? Your chances are high if you're a household name.
THE DOLPHIN HOTEL ( 1408 , 2007)
Proprietor: Gerald Olin (Samuel L. Jackson)
Amenities: Rapid room temperature changes; beautiful bleeding walls; Carpenters tunes ad nauseum; bed turn-down service par excellence
The lo-down:
The Dolphin Hotel's manager insists that room 1408 is simply "an evil
f—ing room," and I'm inclined to agree. In the hotel's history, the
numbers of murders and suicides that have occurred there number high in
the double digits. No one knows why room 1408 is such a jerk — it just
is. Legend has it that "no one lasts more than an hour" inside, but
writer/paranormal activity debunker Mike Enslin (John Cusack) certainly
gave it his best shot, battling hallucinations and wicked hot water
thirteen stories above the streets of Manhattan.
Will you check out in the morning? Yes. Wait, no. Well, maybe. OK, yeah, you do. Or do you?
See?
Now when you look back at Holidays '08 and you think about how much it
stunk to miss four flights due travel snafus, only to arrive at your
Aunt Tillie's house in time to hear her annual drunken "I hate all of
you people, why don't you love me?" speech, you can be thankful for one
thing: There are worse places to stay. After all, chances are Aunt
Tillie doesn't own a scythe. Or a crocodile. And she's probably not
making her own smoked meats in the spare bedroom… probably.
Ooo-ee-oooo!
A fan of horror movies and scary stuff, Stacie Ponder started her blog Final Girl so she'd have a platform from which she could tell everyone that, say, Friday the 13th, Part 2 rules. She leads a glamorous life, walking on the razor's edge of danger and intrigue.
Read More