Video
Opening Night – Frost/Nixon – History or Entertainment?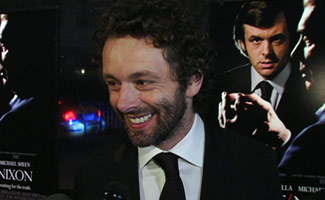 On the red carpet for Frost/Nixon, Ron Howard claims you don't need to know your American history to watch the movie — a love for excitement and courtroom dramas is all it takes. Michael Sheen takes more of a political stance; he hopes the human aspect of the movie reminds us how not to run a presidency.

Want more? Click here for additional AMC News videos.
Director Ron Howard wasn't the only star who Frost/Nixon brought to New York's Ziegfeld Theater for the premiere. Co-stars Kevin Bacon (who was getting his backside paddled for Animal House when the actual Nixon interviews were taking place) and Frank Langella (who was dressing up as Dracula back in the day) also made appearances.
Read More