Opening Night – Revolutionary Road, an Instructional Video?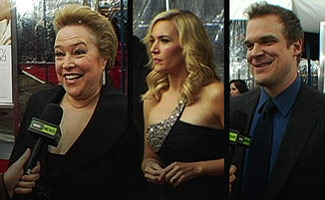 Revolutionary Road may be the story of a relationship's ugly breakdown (Kate Winslet and Leonardo DiCaprio, reunited on-screen), but both Kathy Bates and David Harbour see it as a valuable lesson for newlyweds.

Want more? Click here for additional AMC News videos.
Sure, Bates and costar Harbor spent time on the red carpet discussing the positive lessons to be learned about the troubled marriage depicted in the movie but we're guessing better matrimonial advice can be had from the happily-married Winslet (who also made an appearance) and her Oscar-winning husband-director Sam Mendes (American Beauty).
Read More