Opening Night – Yes Man Can't Say No to AMC News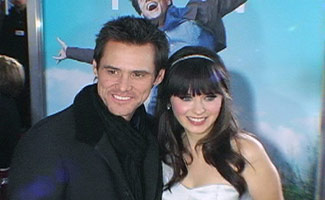 Yes Man star Jim Carrey makes a special effort to talk with AMC News correspondent Jacob Soboroff, loudly advocating the search for "the truth." It's understandable then that director Peyton Reed describes working with Carrey as comparable to working with a caged animal — only much funnier.

Want more? Click here for additional AMC News videos.
According to Kidman while in LA for the premiere, the movie crew ended up being a welcoming committee for her baby with Keith Urban. For costar Jackman, the personal connection with the material was forged with native Aborigines back home. Jackman's sentiments might be more thought-provoking but Kidman's outfit upstaged the world's sexiest man nevertheless on this night.
Read More