Master Monster Hunter Tournament – Buffy (No. 1) vs. Ash (No. 2)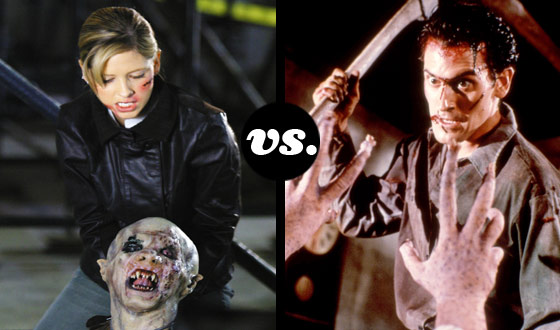 So it all comes down to this. The battlefield is littered with the tattered remains of monster hunters who's skill did not impress the voters. Hellboy, gone. Ghostbusters, banshed. Ellen Ripley, sleeping with the Aliens. Angel, outta here.
We have the battle we all knew was coming, the final showdown that fate deemed as inevitable as the rising of the sun and the ocean tides. It's the No. 1 seed Buffy going head-to-head with the No. 2 seed, Ash.
What can we say about Buffy that has not already been said? The pride of Sunnydale has dominated every opponent in this tourney, starting with River Tam of Firefly, then old beau Angel, and finally a narrow victory over Ellen Ripley of the Alien franchise. All three fighters brandished their monster hunting abilities, and all three failed to match up to the Buffinator.
And on the other side of the ring? Perhaps the greatest cult-classic monster slayer of all time, Ash from The Evil Dead franchise. He opened up a can of whoop-ass on the Frog Brothers, then ousted Selene from Underworld , and finally had to come from behind for a semifinal win over Hellboy.
Sixteen monster hunters entered, and only one will be champion. Will it be the protector of a small town, the woman that falls in love with just about anything that moves? Or will it be a man who's gone to hell and back, who has a real problem remembering the words to semi-important spells?
The polls will be open until Wednesday, Dec. 10; the winner will be announced on Dec. 11. So Buffy, are you ready? Ash, are you ready? Let's get it on!

Read More