Mary Robinette Kowal – Prince Caspian and Hellboy Strut the Runway in 2008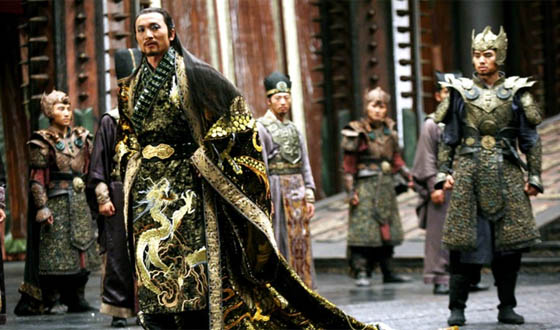 I'm a fashion hound any day, so one of the things I love most about fantasy is the clothing. You see, fantasy heroes' wardrobes are as integral to their characters as the weapons they wield and the spells they cast. After all, where would Gandalf be without his pointed Wizard's cap and long flowing robes? He'd probably look like a homeless person. 2008 was a strong year for fantasy flicks to be sure, with characters battling undead mummies, journeying to the center of the earth and visiting magical lands where Lions rule — but how did they look while doing it? Let's find out.
The Chronicles of Narnia: Prince Caspian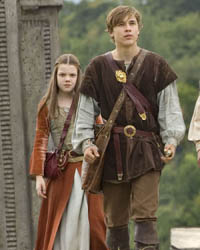 Overall the wardrobe in Prince Caspian was flattering to the cast. The simple lines and muted color palettes reflected their youth while still maintaining a classic appearance. Though the fabrics speak of wealth, they're not ostentatious, which is exactly the look you'd want if adventuring with a prince. I'm particularly pleased to see that both Lucy (Georgie Henley) and Susan (Anna Popplewell) have split skirts, which allow for more fluid movement without sacrificing the lines of their garment for utility. Meanwhile Peter's outfit is a practical brown that nicely resists the inevitable dirt, but still maintains style with the single gold lion-head ornament. And though knee-high boots rarely fly in the real world, on him they're both functional and fantastic.
Twilight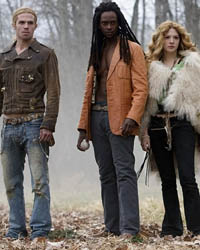 What's the modern vampire wearing these days? Victoria (Rachelle Lefevre) sports a white fur that looks like she picked a sheepskin rug off the floor and slung it over her shoulders. She largely manages to pull it off, but only in contrast to James (Cam Gigandet), whose bare midriff wouldn't even pass on a nubile young woman. Along with his badly bleached hair, it's hard to take James seriously as a dangerous vampire. The only truly successful member of this little hunting party is Laurent (Edi Gathegi), who dispenses with the need for a shirt entirely, opting for an open rust jacket. This and the charcoal trousers are a nice blend of feral instinct with contemporary vampire style. On the whole, though, I have to rate their fashion on the low end of the food chain: It's not scary, and will be quickly dated.
Hellboy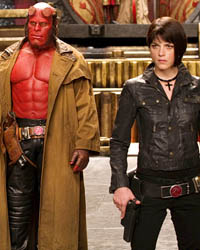 What would it be like to live in a world where everyone dresses in brown or black with red accents? Hmm… Actually, I think almost everyone in this movie looks great, though I might have preferred to see a slightly more tailored jacket on Liz Sherman (Selma Blair). I'm pleased, however, to see a female action star in practical garments that also flatter her. Hellboy (Ron Perlman) knows that his best attribute is his red skin and beautifully sculpted torso. Taking advantage of that, he opts for wearing his long brown coat open, which provides a nice contrast. The black leather pants are also a nice choice, matching the sheen of his skin without drawing attention away from it. As they say in the business: If you can't fix it, feature it.
The Forbidden Kingdom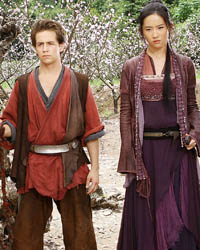 2008 was the year for rust and plum in fantasy costumes. And although the palette works well for Prince Caspian, it is of mixed success in The Forbidden Kingdom. Golden Sparrow's (Yifei Liu) costume has so many textures and shades of plum that it almost completely obscures her. The hapless American, Jason Tripitikas, (Michael Angarano) can't seem to decide if he wants to wear his vest inside or outside of his belt. Rumpled can work as a fashion statement, but it needs some consideration and a little more gravitas to pull off. It's not all bad news, however: The Jade Warlord's (Collin Chou) robe, as shown above, is a striking melange of yellows and golds that convey his strength as a warrior and as a fashonista.
The Spiderwick Chronicles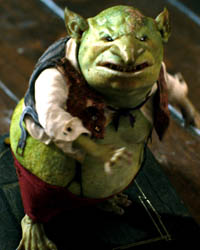 Thimbletack is a brownie and, as we all know, when brownies become angry they turn into boggarts, shown here. The transformation has caused him to bulge out of his outfit like the Incredible Hulk — a decidedly unattractive look. The exposed belly is distinctly lower-class and the green of his skin clashes appallingly with the red trousers. If one has this unfortunate affliction, it would make more sense to choose spandex or other malleable fabric than risk such a clear case of wardrobe malfunction. Also recommended would be choosing colors that go with either complexion. He would do well to take lessons from Hellboy on how to enhance a feature that might otherwise be considered a flaw. Perhaps something in blue?
Mary Robinette Kowal is the winner of the 2008 John W. Campbell Award for Best New Writer. She is also the art director at Shimmer Magazine and a professional puppeteer. Her column appears every Friday.
Read More