Mary Robinette Kowal – Five Fantastic Movies for the Holiday Season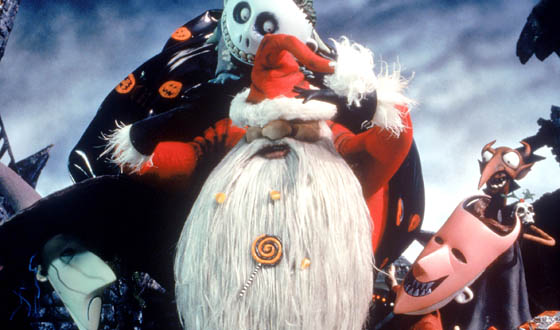 I am a total sucker for Christmas. Complete. To my very core, sucker for Christmas. Every year, my extended family descends on the house my grandfather built for a Norman Rockwell affair: We've got third-cousins twice-removed, there's caroling, dinner for thirty-four people and a talent show. So it should come as no surprise that I have a soft spot for Christmas movies, so many of which by their very nature fall into the fantasy category. Christmas is, after all, a time for magic, so here are my favorite Christmas movies that celebrate the season with a healthy dose of magic and wonder.
It's a Wonderful Life (1946)
One of the things that I love about this movie is its message about family and community. George Bailey (Jimmy Stewart) is an everyman who, on Christmas Eve, thinks about giving up on life. Then an angel comes to him and shows him how horrible the world would be had he never been born. The alternate reality scenario is repeated again and again throughout fantasy, but nowhere else does it instill such hope for mankind. It reminds us how important we are to those we love, and how much of a difference a little bit of kindness can make.
Rudolph the Red-Nosed Reindeer (1964)
I think this was my first exposure to stop-motion, but that's not what I love about this essential childhood movie. What you really have is the story of a misfit who learns to make his oddness work for him. Poor Rudolph's nose glows, a fact which his family tries to hide from the neighbors. Aside from dealing with the trauma of having his own parents ashamed of him, when he comes out of the closet he's ostracized by the community. But as we all know, that very stigma is what ultimately makes him so valuable come Christmas Eve. The tale's message is not just that it's okay to be different, but that being different can be, well, magical. Rudolph is a story that stands up surprisingly well over the years. And, yes, I do love the animation.
Scrooged (1988)
My brother turned me onto Scrooged after years of me pooh-poohing it. I mean, why on earth would anyone want to update A Christmas Carol when the original is so good? Boy was I wrong. This thoroughly modern retelling is faithful to the spirit of Dickens' original tale, but manages to be more relevant for younger generations. We're presented once again with a story that fantastically changes the main character's reality in order to teach him a lesson. The difference is that Bill Murray's hilarious antics as a modern-day Scrooge remind us how easy it is these days for anyone to get caught up in work and forget what's important. Taking time out to watch Scrooged is a great way to get into the spirit of ho-ho-hoing.
The Nightmare Before Christmas (1993)
I have a firm rule: No Christmas Before Thanksgiving. It's simple enough, but the one exception is The Nightmare Before Christmas, which gets its first outing on Halloween. What's to love about this movie? Let's start with the art direction, which is beautifully gothic. Then there's the music, which features composer Danny Elfman at his best. But what really sells it is the story. On the surface, it looks like Halloweentown's Jack has the perfect un-death: He's at the top of his game, a king even, and yet he's unsatisfied. Mid-undead crisis? Oh yeah. So when he stumbles upon Christmastown, his yearnings to try something new suddenly have focus. Eventually we learn that the spirit (no pun intended) of Christmas belongs to everyone, even to Halloween. There's also a love story, political intrigue and of course, a desperate race to save Christmas. I mean, the movie has everything.
The Chronicles of Narnia: The Lion, The Witch, and the Wardrobe (2005)
As part of the White Witch's (Tilda Swinton) hold over the magical land of Narnia, it's always winter and never Christmas. If you're a child that would be, like, the worst thing ever. But there's a moment in the movie when the Pevensie children are hiding from the White Witch and they hear a sleigh — her normal mode of transportation. The sound of jingle bells breaks the silence and they realize that it's not her at all, but Father Christmas. That moment of hope and joy perfectly captures not just the book, but what it's like to come downstairs on Christmas morning and find presents under the tree. Yes, Virginia, there is a Santa Claus. He just lives in Narnia.
Now it's your turn. What are your favorite Christmas fantasy movie?
Mary Robinette Kowal is the winner of the 2008 John W. Campbell Award for Best New Writer. She is also the art director at Shimmer Magazine and a professional puppeteer. Her column appears every Friday.
Read More