John Scalzi – The Best (and Worst) Scifi Movies of the Year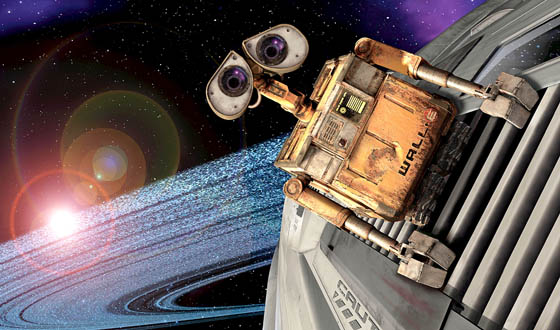 It's almost 2009, folks. And if you've been asking yourself, "Hey, when is Scalzi going to make his end-of-the-year science fiction movie list?" then get ready, because that's what I'm going to do right now. If you weren't asking yourself that question, then, uh, just go with it. Because ready or not, I present to you John Scalzi's 2008 list of science fiction movie superlatives.
The Most Satisfying Science Fiction Movie of the Year


Cloverfield. It was satisfying because it delivers on its promise, which is to give you a genuinely scary monster that destroys the crap out of a major U.S. city while horrifically killing off smug twenty-somethings. Done and done, man. It's entirely possible to overthink Cloverfield — to see it as the final and complete absorption of 9/11 into popular culture (i.e., the movie that made it okay to beat up New York City again) — but why would you do that when you're staring at chewed up neo-yuppies? It's all you need!
The Most Overrated Science Fiction Movie of the Year


Iron Man. Hey, shut up. I liked it just fine, and I appreciated that it isn't dumb. But it doesn't do anything revolutionary with the superhero genre — its story is standard-issue "origin tale," and I was never unaware that I was watching what is, in essence, a silly movie. People were cheering for this film because A) Superman Returns were relative disappointments and this looked like it could do better; and B) Robert Downey, Jr. was bouncing back from Screw-Up Town with a big, shiny franchise movie. The presence of Jeff Bridges, Terrence Howard and Gwyneth Paltrow didn't hurt either. Is Iron Man a smart, fun superhero film that deserves its success? Totally. Should it be on Time's 10 Best Movies the year? Probably not.
The Movie I Most Wish Was Actually Science Fiction So I Could Put it on This List


The Dark Knight. It's the superhero (though not quite science fiction) movie that genuinely deserves its critical success, and I'm placing good odds it will net a Best Picture nomination (as well as a Best Supporting Actor nod for Heath Ledger and a host of technical kudos) come Oscars season. That said, I wouldn't nominate this film as a model for all future comic book flicks: As Iron Man proves, not all superhero movies need to be so damn grim to work. What they need is the right story for the right characters. This one has it, plus a performance from Ledger that leaves no doubt as to what we'll be missing now that he's gone.
The Science Fiction Movie that Makes Me Feel the Worst for Delighting in its Complete and Utter Failure


Speed Racer. In some ways the Wachowskis had it coming for what they did to us with the last two Matrix chapters. But, dude, it's Speed Racer — there are so many ways this movie should have worked. I'm the right demographic to love Speed Racer, and if you watch the movie with the sound off, I'll admit it looks really really cool. But I'm just saying I wouldn't have minded if the movie was actually, you know, fun. I'm glad the Wachowskis' hubris has taken a blow — maybe they'll get their act together and make good movies from now on — but I just wish it didn't have to happen with such a beloved character.
The Best Science Fiction Movie of the Year


As you might have guessed, the year's best scifi is WALL-E, which also happens to be the best comedy of the year and (as the Oscars will very likely reflect) the best animated movie of the year. Indeed it's entirely possible, as the Los Angeles Film Critics Association recently decreed, that WALL-E is actually just the best movie of the year. But since the cartoon's chances of making it onto the Best Picture Oscar ballot (let alone winning) are reasonably slim, we'll take what we can get. It's a shame too, because WALL-E himself is one of the best cinematic creations in years: A metallic descendant of Charlie Chaplin who gives, via his writers and animators, one of the most human performances I've ever seen. Both the technical and storytelling know-how required to make this movie work deserve all the recognition Hollywood can muster. I am constantly amazed — and sometimes a bit depressed — that Pixar is the only studio to actually understand that story and character are just as important to science fiction as explosions and special effects. But again, I'll happily take what I can get.
What other 2008 scifi movies do you think deserve a John Scalzi superlative?
Winner of the Hugo Award and the John W. Campbell Award for Best New Writer, John Scalzi is the author of The Rough Guide to Sci-Fi Movies and the novels Old Man's War and Zoe's Tale. He's also the editor of METAtropolis, an audiobook anthology on Audible.com. His column appears every Thursday.
Read More