Hush… Hush, Sweet Charlotte Blazed a Trail for Horror at the Oscars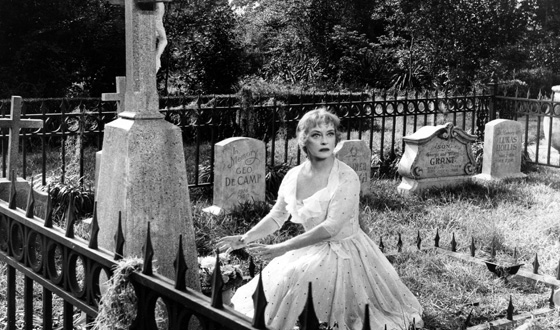 Hush… Hush, Sweet Charlotte Blazed a Trail for Horror at the Oscars" width="560″/>
Remember when everybody was complaining that last year's Oscar nominations were all "too dark"? For starters, we had Johnny Depp slashing throats, Javier Bardem blowing out brains, and a best picture nominee named There Will Be Blood. Horror movies are so consistently marginalized during award season that when one actually winds up creeping in via side entrance, it's regarded with shock and suspicion. A few movies have crashed right through the front door, however, and it's thanks to them, we still have "dark" horse candidates at the Oscars.
The grandmother of them all is Hush… Hush, Sweet Charlotte,
Robert Aldrich's gothic tale of psychotic spinsterhood. The movie
nabbed seven Oscar nominations, including one for Agnes Moorehead's
performance as a scheming housekeeper. Not to mention music, costumes,
art direction, you name it. Granted, it didn't win any of them, but the
fact that this murderous gem had been so carefully considered alongside
the likes of My Fair Lady and Mary Poppins was quite a coup. Nine years later, The Exorcist steamrolled down the trail Charlotte had
blazed, garnering eleven nominations in many of the same categories.
This time, a horror movie walked off with two prizes: Sound and
screenplay. A long dry spell followed before The Silence of the Lambs
came along in '91. Like Charlotte, it earned seven noms, and then went
on to collect five statues, including ones for best picture, director
(Jonathan Demme), actor (Anthony Hopkins) and actress (Jodie Foster).
The gaps between these hostile horror takeovers may seem pretty
wide, but once a firm precedent has been set, as it was by Bette Davis
and her gang of freaks in 1964, anything is possible. And none of these
three movies proved to be a fluke — they're all considered to be as
watchable now as they were then, and have been a leaping-off point for
many people's interest in darker fare. So keep in mind that even if the
Oscars don't seem to be particularly horror-friendly, they've come a
long way. And if on January 22 Heath Ledger really does wind
up being posthumously nominated for his portrayal of a homicidal
maniac, then you'll know that on some level we'll all have Sweet Charlotte to thank.
For a full schedule of Hush… Hush, Sweet Charlotte on AMC, click here.
Read More