Are Female Moviegoers Controlling the Box Office?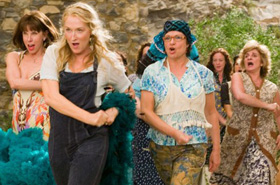 For many, the holiday season means a family trip to the local multiplex, but what you get to see depends on who makes the moviegoing decisions in your family. If the women are in charge, you'll be at Last Chance Harvey or Twilight. If the men are, prepare for Valkyrie or The Spirit. Shootout hosts Peter Bart and Peter Guber are betting Last Chance Harvey and Twilight will win out.
That's because more and more, chick flicks are dominating at the box office. So much so that Guber says the core female audience is like "a fifth quadrant" worthy of respect. "When you look at Mamma Mia! and you look at Twilight, you have to be convinced. Those are initiated by women, they're driven by women and women virally market them." Mamma Mia became a $571 million juggernaut when it went global, while MTV News named "Twilighters" as its 2008 Woman of the Year because "their obsession with the books, movies and actors laid the groundwork for what is now a phenomenon rivaling Harry Potter and Star Wars ."
It's not just that wives and daughters decide what the men in
their lives get to see, it's that men and women are starting to like
the same kind of movies, suggests Bart. "Guys are more and more
interested in Juno." The real success stories are relationship
films that both men and women can enjoy. "To a degree Judd Apatow is
the cause," he says. Apatow's ridiculous and raunchy relationship
comedies ( The 40-Year-Old Virgin , Knocked Up ) appeal to both sexes. But, as Guber points out, just because men hug in Apatow pictures, they're not exactly "chick flicks."
A
chick flick might have broad appeal, but Guber thinks it's also a producer's job to aim "towards that woman who initiates the filmgoing experience." He
explains, "When you see a movie — When Harry Met Sally , Sleepless in Seattle or Flashdance — when they're aimed toward the core audience initiator, [the response] seems to be pretty profound."
To his point: Guys might go to Twilight
(with their wives and daughters) but they aren't the driving force
behind its success. Women and girls made up more than 75 percent of
that film's opening-weekend audience, according to Fandango.com. Paul
Dergarabedian of Media By Numbers told the AP, "The word 'chick flick' is going to have to be replaced by 'big box-office girl-power flick.'"
Who makes the moviegoing decisions in your family? Comments open below.
Read More