Dear Hollywood, It's Time for Chanukah: The Movie!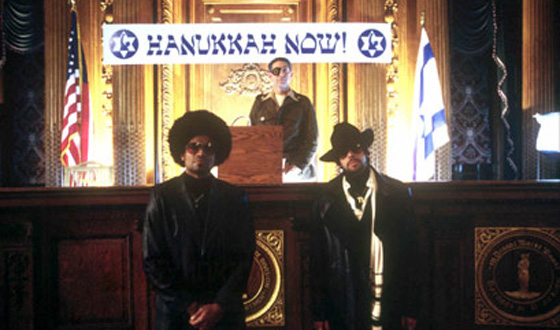 Chanukah: The Movie!" width="560″/>

"Happy Holidays!" is a phrase you hear everywhere, and it usually implicitly includes both Christmas and Chanukah. And yet year after year, all you hear at the movie theater is "Merry Christmas!" Though there have been a handful of animated attempts at a Chanukah movie (like 2002's Eight Crazy Nights, or 1987's Lights), there's only been one live-action Chanukah movie, 2002's The Hebrew Hammer .
So why is this, he wrote in a very Jewish manner. Primarily it's because… Chanukah isn't really a big deal. At least, not in the way Christmas is. The big Jewish holidays (Rosh Hashanah, Yom Kippur and Passover) are in the spring and fall, not the winter. Chanukah is a rather minor holiday in the scheme of things. It's only grown in importance to Jews in America because of its proximity to Christmas — and because of kids' desperate need for toys.
Growing up Jewish, I, for one, would very much have liked to
see a Chanukah movie or two. So we here at AMCtv.com have decided to
pitch a few Hollywood directors ideas for big budget, live action
Chanukah movies. If they decide to go ahead and make them, it would
be quite the mitzvah.
Michael Bay's Chanukah-mageddon: We open on
a shot of the Earth from the Moon. A very serious announcer explains
that thousands of years ago, the Maccabees fought for their
independence in what we now know as Israel. Zoom in on Maccabees
fighting in slow motion, as black helicopters fly overhead. The
announcer continues, saying that when they hid out in a temple, oil that was
only supposed to last one day burned for eight. Cut to 2,000 years later, and Josh McAbee (Shia LaBeouf) is a regular
school kid… except he's also the last living descendant of the
Maccabees, and the only one who can access the original oil from the
temple, which is said to grant eternal life. On the run from the U.S. government — and the 2,000-year-old dictator Antiochus IV
Epiphanes, who will stop at nothing to control the oil — Josh must find
the temple while romancing his sexy Jewish classmate (Natalie Portman)
before it's too late! At some point in the movie, the Western Wall gets
blown up by robots.
Peter and Bobby Farrelly's There's Something About the Potato Pancakes:
Robert Smuck (Jack Black) is going nowhere fast in his job at a kosher
restaurant, until he accidentally mixes something special into the
latke mix which causes everyone to go nuts for them. The pretty Jewish
waitress (Natalie Portman) finally sees him as more than a screw-up,
but he has a problem: He doesn't actually know what the secret ingredient is… only his other personality does!
M. Night Shyamalan's The Dreidel: Something
terrifying is happening in suburban Philadelphia. As the last night of
Chanukah draws to a close, sexy Hebrew School teacher Rachel Goldberg
(Natalie Portman) realizes that every time the students play dreidel,
it always lands on Nun (which stands for "nothing"). Increasingly terrified, and driven by a
desire she can't explain, she searches
out the enigmatic Rabbi (cameo by Shyamalan) to find the
answers to this mystery. Turns out, everybody has been dead the whole
time.
Baz Luhrmann's Chanukah!: A fabulous, over-the-top, musical retelling of the Chanukah story set in Paris, 1899.
Jack (Leonardo DiCaprio) is the leader of the Maccabees, a gang of
guerilla artists trying to put together one big show before Christmas.
Unfortunately, they're kicked out of their space by the King of the Art
Scene (Hugh Jackman), who wants to make everyone worship Santa Claus.
Only with the help of Jack's star-crossed lover, Jenny (Nicole Kidman),
does the King (who happens to be Jenny's father) realize that the show
must go on. Though it's only scheduled for one night, the magic of Chanukah
extends time to build the show into eight nights, and Jenny dies of
TB. Also starring Natalie Portman.
So how'd we do, AMCers? Think you can do better? Pitch us your
ideas, and together we can make the ultimate Chanukah movie a reality.
Read More