Daily Scan for 12.19.08 – Trial Delays Watchmen's Release, Battlestar Movie Mimics Ender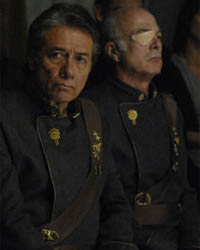 • This Doctor Who Dalek Christmas tree will EXTERMINATE, EXTERMINATE your presents and wrapping paper.
• The lawsuit between 20th Century Fox and Warner Bros. over the distribution rights to Watchmen has apparently hit a snag, and will delay the movie's release for two weeks.
• Battlestar Galactica producer Jane Espenson hints at the plot of the upcoming spin-off movie The Plan, which will follow the same events as the series from a different perspective. Ender's Shadow, anyone?
• Jay Garmon weighs in on the scifi versus science fiction debate, but I'm here to settle it: Scifi is fine. Forrest J. Ackerman invented the term, and the man is the greatest thing that ever happened to the genre.
• Was 1958 the most important year in the history of science fiction movies? Locus Online seems to think so, and they have a point: That was the year I Married a Monster From Outer Space came out.
• io9 reacquaints us with Turkish Star Trek. It actually tries damn hard to ape the look and feel of the original, so beam me up, Sultan.
• ABC is promoting the hell out of a new clip for Lost Season 5. I quit watching the show after the second season, but from the look of this it might be time to dive back in.
Read More