Daily Scan for 12.16.08 – Trek's Time Travel Revealed, Branagh's Thor Confirmed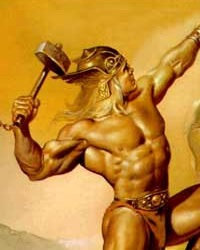 • Terminator: Salvation isn't even out yet and the sequel is already underway. That's not surprising since they planned for a trilogy, but Warner Bros. must be pretty confident this one's going to be profitable, if not good.
• Richard Dawkins is really turning into a kook: Now he's ranting against fantasy literature, declaring it "anti-scientific." Gee, ya think?
• TrekMovie "spoils" the time travel plot in J.J. Abrams' Star Trek, which ends up being exactly what everyone had assumed all along.
• Kenneth Branagh has finally confirmed he's directing Thor. First Patrick Stewart and Ian McKellen, now Branagh — I'm getting the sense that Marvel is aiming to acquire the whole Royal Shakespeare Company.
• Darren Aronofsky says we're all Robocop. Now if you'll excuse me, somewhere there is a crime happening.
• Good news, Lost fans: Season 5 will air without interruption.
• Fox unveils a trailer for X-Men Origins: Wolverine, featuring a stunt where Hugh Jackman flips off his motorcycle and onto a helicopter. Sign me up.
Read More