Daily Scan for 12.15.08 – Kirk and Spock Crack Nuts, Virtuality Hits a Real Wall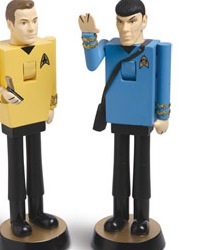 • Wolverine (and People's sexiest man of the year) Hugh Jackman will host this year's Oscars. A phenomenally debonair choice: We can expect many skits making fun of his genre roles.
• Hulu is starting to air the Battlestar Galactica webisodes bridging Seasons 4 and 4.5. Finally, we can stop speculating about Gaeta's sexual orientation.
• Speaking of BSG, Ronald D. Moore's other show, Virtuality, is having some trouble getting past Fox's programming department. Is there no series they won't ruin?
• Kirk and Spock are now Christmas nutcrackers. You'd think 23rd century phasers would have eliminated this sort of festive drudgery, but apparently not.
• Robo-Dog Flame-Cycle. I repeat, Robo-Dog Flame-Cycle!
• The official Star Wars: The Old Republic site for the upcoming MMORPG has posted the first of a series of behind-the-scenes video documentaries.
• A carol for all sci-fi geeks: The Millennium Falcon for Christmas.
Read More