Daily Scan for 12.08.08 – Uber-SciFi Fan Ackerman Dies, Aliens Cut From Aliens?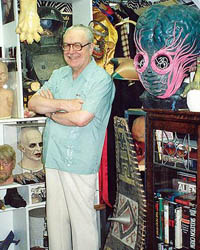 • Sigourney Weaver and Ridley Scott seem to be taking an unorthodox tack for Alien 5: Don't include aliens. Uh, Okay…
• Scott King says the only way to save Heroes is to kill it. Sadly, I agree.
• Two dyslexic twins have co-written a science fiction novel. It's inspirational, but it sounds like their father probably ghost-wrote the whole thing.
• Uber science fiction fan Forrest J. Ackerman has died at 92. This guy's legacy is in the title of this blog: He coined the term "scifi."
• A never-before filmed James Bond script has just sold for 46,000 pounds. Apparently James Bond stories are just that hard to come by.
• The BBC is readapting John Wyndham's Day of the Triffids. It's one of my favorite scifi novels, but honestly, how many movies about man-eating plants can we possibly watch?
Read More