Daily Scan for 12.04.08 – Snyder Trims Watchmen, Doctors Want Woman Who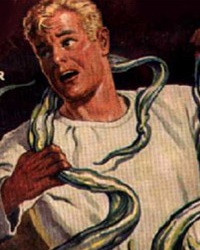 • Zack Snyder is cutting Watchmen by fifteen minutes. Since Snyder's instinct to be as loyal as possible to the source oftentimes gets in the way of making a better movie, this will probably end up for the best.
• This io9 article not only has a great title — You Will Sweat Nanoblobs: Your Future Workplace — but some wonderful old pulp cover art to boot.
• British female scientists really want the next Doctor Who to be a woman. Well, if he can go from an old man to a young metrosexual, I don't see why not. And think of the slash!
• Watch a very early adaptation of Arthur C. Clarke's "All the Time in the World," which aired in 1950 on the television series Tales of Tomorrow.
• The original Battlestar Galactica as envisioned by Oscar-winning Star Wars concept artist Ralph McQuarrie.
Read More