Daily Scan for 12.03.08 – SciFi Channel Greenlights Caprica, Captain Jack Bares All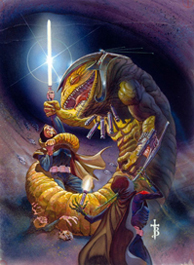 • The SciFi Channel has finally, finally, greenlit the Battlestar Galactica prequel, Caprica, envisioning it as BSG set in the '50s without spaceships. I predict the first space battle will occur before the Season 1 is out.
• I hated spot-on parody of the Architect's pseudo-philosophical blithering.
• John Barrowman, who plays Captain Jack on Torchwood, exposed himself on the BBC over the weekend. One person complained.
• It's the 30th anniversary of the Star Wars Christmas Special. Thanks for giving us Wookiee Life Day, George!
• Usually I'm a bit skeptical of Guillermo del Toro being attached to yet another project. But now he's got his sights set on remaking Roald Dahl's The Witches, which is actually pretty exciting.
• In the '90s, Topps and LucasArts released a Star Wars: New Visions line of trading cards, which depicted artist interpretations of the universe without any canonical nitpicking. Of course, nitpicked they were. Here are the one's that were censored.
Read More