Daily Scan for 12.17.08 – The Crow to Get Blade Director, Tron 2 to Get House Doc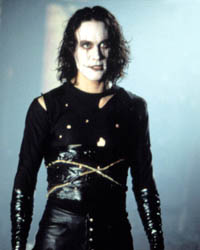 •This clip of a fake Waterworld musical may be viral marketing, but it's also hilarious and much more melodic than Shrek's Broadway debut.
• Olivia Wilde, who plays dying doc Thirteen on House, is the first to sign on to Tron 2. Any bets she'll play a lesbian in this one too?
• Blade director Stephen Norrington says he wants to reboot The Crow. To goth and emo kids, this is tantamount to remaking The Godfather .
•io9's tribute to the classic '80s arcade game Xenophobe is spot on. Hollywood needs to ditch the delayed Halo movie and just bring this forgotten gem to the big screen.
•Forget the "Star Trek" reboot: These action figures from Star Trek IV: The Voyage Home scream mid-'80s in the best possible way.
•Scary Godmother artist Jill Thompson discovered some lost pages from her proposed The Nightmare Before Christmas graphic novel. How did this one not happen?
• Time-Life's massive massive DVD collection of the entire Real Ghostbusters animated series is a must-buy this holiday season, if for no other reason than to experience Bill Murray's voice coming out of a cartoon character other than Garfield.
•Maybe it's nostalgia talking, but the Green Goblin costume in this vintage ad for the Parker Bros. Spider-Man video game is definitely creepier than Willem Dafoe on his silly hoverboard.
Read More