Classic Ten – Greatest Party Scenes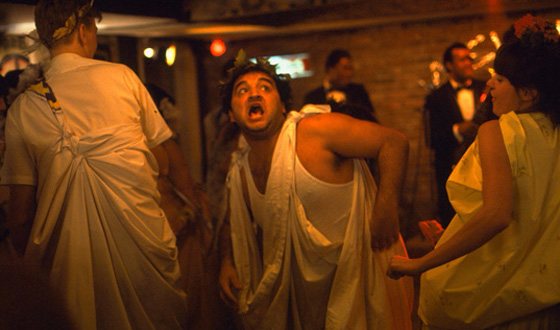 Birthdays, weddings, bar-mitzvahs, New Year's, heck, just for the sake of having one — there's always an occasion for a party! Hollywood knows how to celebrate, and in the movies, fetes have ranged from the house-wrecking juvenile antics of college goof-offs to the creepy séances of elite neo-pagans. The parties of the following films are so memorable they could — and have — inspired viewers to throw similar ones themselves. In other words: Do try this at home.
10. Bachelor Party (1984)
There's no finer American celebratory tradition than the bachelor party, manhood's last gasp of freedom before the total lockdown of marriage. And no finer bachelor party exists on screen than the one in — surprise, surprise — Bachelor Party, a boys-will-be-boys, prank-strewn comic romp with pre-serious Tom Hanks reveling in '80s excess: Pill-poppers breakdancing on pianos, mustachioed lovers cavorting with transvestites — such behavior won't be tolerated once the knot is tied.

9. Nowhere (1997)
Like Fellini's Satyricon for the "whatever" generation, Gregg Araki's Nowhere surveys the hedonistic nihilism of a polymorphously perverse adolescent wasteland, building up to a surrealistic shindig set to psychedelic lighting where machine gun-wielding transvestites, homicidal motorcyclists, satanic bodycutters, suicidal pillheads and reptilian space aliens gather to celebrate the apocalypse. It would be nothing more than a freakshow if it weren't so strangely, and darkly, fun.
8. Annie Hall (1977)
Woody Allen + Los Angeles = Hilarious. When removed from the comforts of his beloved Manhattan and placed in the plastic universe of LA ("they don't throw their garbage away, they turn it into television shows"), old-fashioned curmudgeon Alvy Singer (Allen) becomes even more miserable than usual. Fortunately for him, he has the last laugh. Even if he's the constantly complaining wet blanket at the party of pompous record producer (Paul Simon), at least he's not one of the new age airheads (Jeff Goldblum) calling his guru with an LA-style emergency: "I forgot my mantra."

7. Boogie Nights (1997)
New
Year's Eve, 1979: The '70s have been one big party to the porn industry
centered around Jack Horner's mini-empire of gorgeous and amply-endowed
sex stars. But the '80s is ushered in on an ominous note at Horner's
party, in which long-suffering cuckold Little Bill (William H. Macy)
finds his wife cheating on him yet again and, in a tense and
anxiety-provoking three-minute long take, shoots her and her lover amid
exclamations for the new decade. The age of disco makes
way for the ugly morning after during a bacchanal in which free love
brings on deadly consequences.
6. Midnight Cowboy (1969)
In
downtown New York City 1969 things are "happening," with bohemian
parties bringing artists, druggies, models, and poseurs together for
wild experimentation and unconventional couplings. Country-born gigolo
Joe Buck (Jon Voight) and coarse-grained manager "Ratso" Rizzo (Dustin
Hoffman) journey into one such Warholesque scene (real life Warhol
superstars Viva and Ultra Violet are in attendance) wide-eyed and
naïve: Thinking it's a cigarette, Buck smokes an entire joint, setting
off a New Hollywood-style hallucination punctuated by flashing lights and
culminating in swinging sex.
5. A Wedding (1978)
Robert
Altman's movies so often feature chaotic parties attended by strangely
diverse guests for the simple reason that they reflect the debauched
atmosphere of his films' productions. Take A Wedding: What
else would Lillian Gish, Desi Arnaz, Jr., Mia Farrow, Carol Burnett,
Geraldine Chaplin, Howard Duff, and Vittorio Gassman do if put in the
same room but commingle, copulate, and combat? Here Altman rounds them
up for a post-nuptial that brings together Southern protestant and
Italian Catholic families in a satire of civilization's most sacred
ritual that inevitably ends in desire run amok.
4. Eyes Wide Shut (1999)
Plenty of movie parties border on the orgiastic (see Nowhere, for instance) but few actually go there. Stanley Kubrick did in his final film, Eyes Wide Shut,
and paid the price with censorship and an incredulous public. Rumors of
onscreen sex between married stars Tom Cruise and Nicole Kidman were
dashed by the film's only real sex scene, a funereal, cult orgy
initiated by grotesquely masked and robed Mason-like members of a
secret society who force beautiful women to undress in front of the
crowd.
3. Dazed and Confused (1993)
Wistful
memories of revelries long since past continually stir in our memories,
so no wonder so many of the parties on this list — Boogie Nights, Animal House, for example — are viewed through a nostalgic lens. Dazed and Confused,
however, is the final word on reflective melancholy. A last day of
classes kegger held by a spectrum of Texas teenagers circa 1976
(featuring beer, pot, fistfights and Skynyrd) represents the
circle of life that sees the end of high school for some, and the
initiation into it for others, via painful freshmen paddlings.

2. Swingers (1996)
No movie has influenced party culture in the last two decades as much as Swingers,
which revived swing dancing, broke down rules for picking up women
(don't make eye contact too early), and introduced its own unique
vocabulary ("you're so money"), as well as the
immortal concept of the "wingman." The ridiculousness of party
etiquette and behavior is on brilliant display at a Hollywood Hills
bash (nobody knows the host) attended by
Mikey (Jon Favreau), whose attempt to get over getting dumped by his
longtime girlfriend is met by the cutthroat realities of the singles
scene: "Hi, how are you ladies doing this evening." "What do you drive?"
1. National Lampoon's Animal House (1978)
"To-ga!
To-ga! To-ga!" Spurred by the news they've been placed on "double
secret probation," Faber College's misfit Delta Tau Chi fraternity
house throws film history's most raucous, decadent, and nose-thumbing
party. Dressing up as Greeks, they smash guitars (John
Belushi's beer-swilling Bluto's signature moment), corrupt the mayor's
daughter, get down (literally) to Otis Day and the Knights' "Shout!",
and seduce nemesis Dean Wormer's wife. The wildness was so infectious
it spawned a fraternity and toga party revival as well as thousands of Animal House wannabes. It also gets the Deltas busted, but at least they went out in style.
Which movie has your favorite party scene?

Read More