Can Marvel's Dark Knights Ever Compete With The Dark Knight?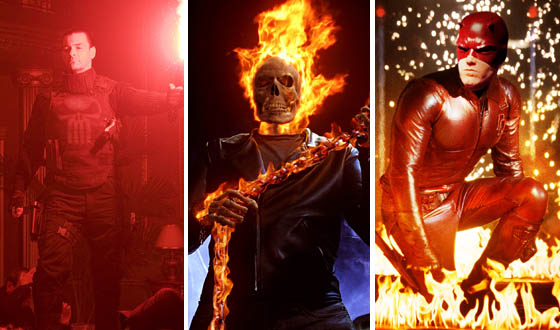 The Dark Knight?" width="560″/>

Perhaps the most interesting thing about Punisher: War Zone (besides the Punisher's ability to pulverize a bad guy in mid-air using a rocket launcher) is the fact that the movie is Marvel's first to be released under its "Marvel Knights" banner. In the comic book realm Marvel's darker characters (Punisher, Ghost Rider, Daredevil, and others) have been published under the heading for several years, so branding its more mature movies as such makes sense. If only Marvel's dark characters could inspire watchable flicks. You see, Marvel has the monopoly on fun, splashy widescreen action, but when it comes to grim and gritty the studio can't seem to get it right. With "dark" comic book movies all the rage — thanks to a little movie called The Dark Knight out today on DVD — let's take look at where Marvel's Knights have gone wrong, and how they can keep up with Batman in the future.
Daredevil
After the Ben Affleck and Jennifer Garner meet cute debacle that was 2003's Daredevil , it's understandable if audiences aren't clamoring for a sequel. But Matt Murdock fans know what a missed opportunity it was, and how a faithful Daredevil movie could give Marvel its own Dark Knight (or least its own Batman Begins). A successful film would start from scratch, borrowing elements from Frank Miller's origin story Man Without Fear, then flash forward and use the recent hard-edge crime tales of scribes Brian Michael Bendis and Ed Brubaker as inspiration. Daredevil is one of the richest characters in Marvel's stable, with a wealth of gritty and intelligent stories to draw from. For now rights to the franchise still lie with 20th Century Fox and not Marvel Studios, but with talk from Fox of recruiting a Christopher Nolan-esque filmmaker for the character, there may yet be hope.
Punisher
Despite being a box office bomb, Punisher: War Zone was arguably the best Punisher offering to date. But after 2004's Punisher in Tampa, and Dolph Lundgren's 1989 direct-to-video cheesefest, is that really saying much? Like the 2004 film, Punisher: War Zone "takes inspiration" from writer Garth Ennis' Marvel Knights and MAX series. Yet both fail to lift fundamental elements like plot, twisted humor, and character moments from Ennis. He realized that Frank Castle is just a flat-out crazy killing machine that cannot be redeemed in an hour and forty minutes. He also realized that Punisher as a character is inherently one-note, and thus surrounded him with interesting villains and increasingly bizarre situations. PWZ tries for the dark satirical edge of Ennis, but just delivers gory camp. If Marvel is so intent on lifting from Ennis, why not just let him write the inevitable fourth reboot? Otherwise, just give the character a rest for a while. There was an eight-year gap between Batman & Robin and Batman Begins , and now we're talking about an Oscar contender.
Ghost Rider
Despite being universally reviled, Nicolas Cage's 2007 Ghost Rider outing was such a box office success that talk of a sequel was rampant. Cage wanted to go darker with the character, saying Johnny Blaze would ditch his jelly bean addiction (Cage's own affectation that had nothing to do with the comics) and hit the bottle. That's all well and good, but the first step is finding a director who can handle Ghost Rider's tricky balance of supernatural horror and urban street crime. I Am Legend director Francis Lawrence, who's improved since his so-so thriller Constantine, could be a good choice. Ditto Alex Proyas, visionary director of Dark City and The Crow . Marvel seems to have cooled off on the idea of a Ghost Rider follow-up for now, but with a stronger director — and a higher special effects budget — Cage may finally get to fulfill his dream of starring in a decent comic book movie.
Jessica Jones
Though never a Marvel Knights title, Brian Michael Bendis and Michael Gaydos' gritty superhero detective series is a highly underrated entry in the publisher's MAX imprint, and could really shake up the studio's movie formula. Alias not only gave us what is perhaps the most realistic female comics character in superhero-turned-private-eye Jessica Jones, it also rescued Luke Cage — her husband — from his embarrassingly dated "Sweet Christmas!" past. In addition, Jessica's realistic encounters with everyone from Captain America to Ant-Man (she dated the character's second incarnation) could nicely segue her into an Avengers cameo, which these days is reason enough for Marvel to give the green light.
What other Marvel Knights characters would you like to see on the big screen? How can Marvel fix Punisher or Daredevil? And what of Man-Thing? Will he forever be relegated to B-movie prison?
When not writing, Nick Nadel is in line at the comic book store alongside the other geeks, er, fans of speculative fiction. His most prized possession is a 1960s Batman comic wherein the Dynamic Duo are
trapped inside a fortune cookie factory. He lives in Brooklyn and updates his aptly named website (nicknadel.com) with comedy writing and videos.
Read More