After Coraline, Hollywood May Finally Tackle Neil Gaiman's Comics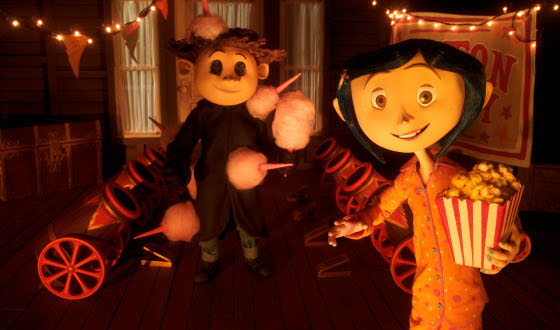 Coraline, Hollywood May Finally Tackle Neil Gaiman's Comics" width="560″/>

Along with Alan Moore and Frank Miller, Neil Gaiman can be counted among the comic book writers whose work changed the medium during the 1980s. But unlike his contemporaries, none of Gaiman's comics have yet made it to the silver screen (Yes, Stardust was first published by DC/Vertigo, but as an illustrated novel, not a graphic one). Ironically, the author is a powerhouse in Hollywood, having worked on the screenplays for Beowulf , Princess Mononoke, and several other films in various stages of production. Then there's his young adult novel Coraline, the stop-motion adaptation of which is building buzz rapidly with new images and a trailer to boot. But what of his comic book work? With Gaiman's industry clout and rock-star like following, he should certainly be able to get a few of his four color projects in theaters. Let's take a look at which Gaiman comics could likely follow his novels to the big screen.
Mr. Punch

Gaiman and his longtime collaborator Dave McKean teamed up for the original Jim Henson film MirrorMask , a visually dynamic work that was a bit lacking in the story department. Their 1994 graphic novel The Tragical Comedy or Comical Tragedy of Mr. Punch, about a creepy seaside Punch and Judy show and its effects on a young boy's memory, could make for an amazing follow-up. Gaiman's tale of repressed childhood trauma is haunting, and McKean's visuals are poetic and dreamlike, never once lapsing into pretension. Somewhat forgotten amongst Gaiman's many works, a Mr. Punch film could bring the graphic novel to a greater audience and join A History of Violence and Persepolis in the pantheon of challenging, non-superhero comic book adaptations.
The Sandman
Gaiman's sprawling, groundbreaking DC Comics/Vertigo series has proved nearly as difficult to adapt as Watchmen. Roger Avary, Gaiman's collaborator on Beowulf, was at one point set to direct a faithful adaptation written by Ted Elliot and Terry Rossio (Aladdin, Pirates of the Caribbean ). But uber-producer Jon Peters got in the way, commissioning a script that found Morpheus, the Lord of Dreams, partaking in generic superhero fisticuffs. It floated around the Internet a while back and was deemed by many, Gaiman included, to be one of the worst movie scripts ever written. One of the hurdles facing any Sandman adaptation is the vastness of the work: 75 gloriously written comics — not to mention the spin-offs and specials — that span a multitude of genres. There's a reason why Sandman is the only comic book to have ever won the World Fantasy Award — Archie and Veronica it ain't. Gaiman has said that a Sandman film requires a filmmaker as passionate about the material as Peter Jackson was about the The Lord of the Rings . May I suggest Gaiman's rumored collaborator on Doctor Strange, Guillermo del Toro?
Death: The High Cost of Living

Ironically, the popular Sandman spin-off, about the one day every century when Dream's sister Death gets to become human, could be the first Gaiman comic to make it to the big screen. Gaiman has been slated to write and direct the adaptation for some time now, but so far studio hurdles have gotten in the way. The story is one of Gaiman's best, and doesn't require prior knowledge of the Sandman comics. Currently titled Death and Me — and transported from London to New York City, natch — the film is rumored to star Shia LaBeouf as Sexton, the suicidal young man whom Death befriends. No word yet on the lucky actress who'll don Death's ankh, though it's a hot topic among Sandman fans. (No pun intended.) Everyone has their dream choice, so I'll just throw mine out there: Zooey Deschanel.
Marvel 1602
It's truly a testament to the heat surrounding Marvel these days that they would even consider an adaptation of Gaiman's mini-series, which reimagines our favorite superheroes and villains in a 1600s setting. But Marvel Studios chief Kevin Feige recently spoke about the project, saying it would be "really cool to do sometime down the line." Gaiman's period spin on Spider-Man, the X-Men, et al could definitely juice up their movie characters once we tire of them in a few years.
What Gaiman comics would you like to see make it to the big screen? Books of Magic? Eternals? The Last Temptation of Alice Cooper?
When not writing, Nick Nadel is in line at the comic book store alongside the other geeks, er, fans of speculative fiction. His most prized possession is a 1960s Batman comic wherein the Dynamic Duo are
trapped inside a fortune cookie factory. He lives in Brooklyn and updates his aptly named website (nicknadel.com) with comedy writing and videos.
Read More