A Movie Guide to the Saint Nicks of Horror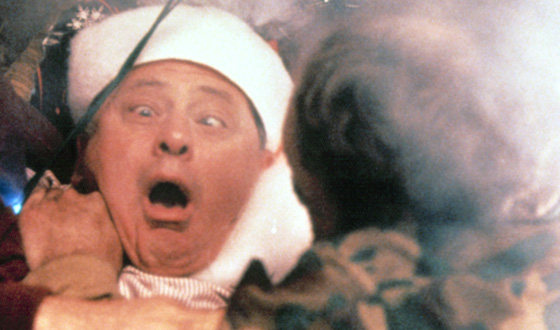 Merry Christmas, dear reader! And what better way to celebrate the holiday season than by taking a look at the best horror-movie bastardizations of Saint Nick?
For my money, Santa is already pretty scary. You've seen the Santa scene in A Christmas Story : ever wonder why half the kids on Santa's lap are either crying, crapping, whizzing, or fighting for their lives in a beard-clutching escape attempt? Because the dude is big, he's got freaky hair, and he's dressed all in red…the color of blood. Coincidence?
But when did Hollywood decide to take the icon of our childhoods and turn him into a nightmare-inducing monster? I think it all began in 1980, with two movies…
1980: You Better Watch Out and To All a Good Night
You Better Watch Out started the whole "Killer Santa figures out who's been naughty and who's been nice" angle. This one was marketed under the tagline "He'll sleigh you." How can you top that? Why, with a Santa story that is described thus: "It's Christmas break at the Calvin Finishing School for Girls…" That sums up the beauty that is To All a Good Night. I can get my killing complete with schoolgirl pillow fights? And people think Louis Pasteur was a genius — no, sir, this is genius. These heavy-handed extravaganzas led to what would become the Cadillac of Killer Santa franchises…
1984: Silent Night, Deadly Night
Not only has Silent Night, Deadly Night spawned four sequels over the past twenty years, but it's even slated for a remake. If someone can make money by redoing Prom Night , why not give this bad boy a silver-anniversary update?
1984: Don't Open 'Till Christmas
Of course, all of these Santas ripping across the North Pole had to generate some revenge drive-bys. And where does it happen? London. Now the tables are turned, as a psycho stalks people dressed in Santa gear and takes them out. The movie created a twelve-year absence of the red menace until…
1996: Satan Claus and Santa Claws
Satan Claus? The name speaks for itself. Sheer brilliance. Santa Claws has scream queen Debbie Rochon. If that isn't reason enough to feel all warm and fuzzy inside, then I know nothing about the holiday spirit. But why indulge in clever naming? Why not just get down to brass tacks and call your movie…
2003: Psycho Santa
Apparently, all of the kids with imaginations had left the building at this point. Psycho Santa? That's all you got? If you're going to capitalize on a cultural icon, the least you can do is brainstorm a little harder. For example, what if you take the word "sleigh" and use its homophone?
2005: Santa's Slay
The most recent foray into this gold-mine of a genre starred not only the massive pro wrestler Bill Goldberg, but also Fran Drescher (The Nanny), Chris Kattan (Saturday Night Live), Rebecca Gayheart ( Urban Legend ), and James Caan. "Sonny" Corleone in a killer Santa movie? I won't spoil this one, but I will say that if you're drinking egg nog during the first five minutes, you're liable to do a spit take.
I know what you're thinking: "Gee, Uncle Scottie, thanks for sharing all of these fine cinematic accomplishments with us!" You're welcome; that's what I'm here for. If you're short on time and can't handle a murder marathon, I'd say go with Silent Night, Deadly Night and Santa's Slay. Bring them with you to your family gathering, pop them into the DVD player, and you'll be able to forgo listening to Cousin Dick talk about his boils for the next four hours.
Scott Sigler writes tales of hard-science horror, then gives them away as free audiobooks, at www.scottsigler.com. His new novel, Contagious, hits bookstores on December 30 and is currently available for preorder. If you don't agree with what Scott says on this blog, please e-mail him at scott@scottsigler.com. Include all relevant personal information, such as your address and what times you're at home, so Scott can visit and show you his world-famous Chicken Scissors.
Read More