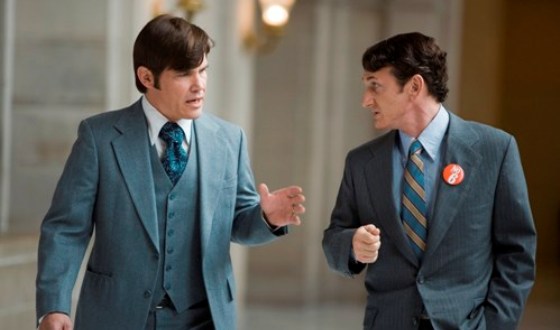 Milk" width="560″/>

Opening this week in select cities before rolling out nationwide, Milk has proven to stick with me in unexpected ways. I went to see it a second time just because I kept thinking about how it was made, what it meant, how it played out. Milk stars Sean Penn as San Francisco politician and activist Harvey Milk, the first openly gay man elected to public office in California, who was shot and killed (along with San Francisco Mayor George Moscone) in 1978. Some box-office watchers and Oscar prognosticators are doubting that Milk, as a "gay movie," will play outside of big cities, but Milk isn't a one-issue movie built around a single star — it's also a great, fascinating political procedural.
Otto von Bismarck noted that if you enjoy laws and sausages, never watch how they're made. Milk gets that — it's a smart, unsentimental portrait of urban politics as a messy process of confrontation and compromise, shouted threats and whispered agreements. Screenwriter Dustin Lance Black fits in a series of moments that show Milk in action — flattering Teamsters, reaching out to hippies, taking advantage of redistricting. When Milk wants to get out the vote for a gay rights initiative he's put before the people, he also puts a poop-and-scoop law on the same ballot — and taps into a vast reservoir of irritated city-dwellers. Penn playing Milk in a TV news piece on the poop-and-scoop problem is a subtle standout; he's goofy, hammy and endearing for the camera, and as you watch, you get a brief, brisk demonstration of Milk's theory that politics is theater.
Directed by Gus Van Sant, Milk is smart in a hundred tiny ways that add up to real brilliance. Van Sant shot Milk on a low budget, but totally recreates '70s San Francisco — and the use of stock footage and news reports doesn't feel like cost-cutting, but instead sets the tone and tenor of the battles Milk was fighting and the places where he made his stand. Josh Brolin, as Milk's assassin Dan White, is a lock for a Best Supporting Actor nomination; White is a killer, but we also get a sense of him as a person. And Penn (who Oscar will also nod to, guaranteed) is exceptional, giving an impressively physical performance; watch Penn's hands — tentative, twitchy, fidgety — and you realize that Harvey Milk's whole career, and whole life, was a conscious act of will as he made himself go out into the spotlight, and the firing zone, over and over again. Is Milk a gay story? Sure, but it's also a human one — and, considering how many people find those ideas to be contradictory even now, it's a necessary one.
Also Worth Seeing in a Theater Near You

Four Christmases is not great comedy, but insofar as it gives Vince Vaughan a chance to stammer, yammer and talk like a crazy person, I was laughing. Vaughn and Reese Witherspoon are a yuppie couple dealing with four family visits in one day; the plot's almost irrelevant, but Vaughn's like a jazz musician blowing wild, crazy solos out of a pretty familiar melody.
Read More