Vampire Means Loneliness (True Blood), Dysfunction (The Lost Boys) and Sex (The Hunger)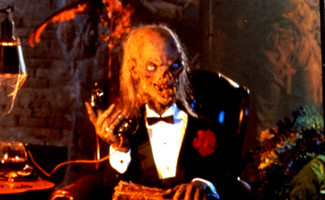 Horror monsters often represent more than just the monster themselves. Frankenstein and Godzilla are meant to warn us about science, for instance. But more so than its fellow creatures, vampires also stand in for something bigger, whether it's a general concept like alienation (True Blood), or something more specific such as family dysfunction in '80s America ( The Lost Boys ).
But the most popular metaphor by far, is the idea of equating vampires with sex. The penetration of a vampire's bite has been linked with… er, other types of penetration. And though it varies from mythology to mythology, there's often a seductive or hypnotic gaze used by a vampire to seduce a young, be-nightgowned woman.
In The Hunger ,
a vampire couple (David Bowie and Catherine Deneuve) starts a love
triangle with a doctor (Susan Sarandon). Though there is sexuality
blatantly on display in the movie, the vampirism is used as a metaphor
for the addiction of an unhealthy sexual relationship. In 1992's Bram Stoker's Dracula ,
the sensuality of fiction's most famous walking undead is brought to
the forefront, turning the classic tale from a horror story, to a
bodice ripper. Two years later, Interview With the Vampire
added a subtext of latent homosexuality, implying that eternal life
also granted eternal flexibility in your sexual preference. And then there's 1996's Tales From the Crypt Presents Bordello of Blood,
which also went the vampires-as-sex route, but without all subtext or
social commentary to slow the audience down. By setting the movie in a
house of prostitution, what you see is exactly what you get.
To check out a full schedule of Tales From the Crypt Presents Bordello of Blood, click here.
Read More